All I Could Hear was Silence
September 27, 2009
I sit in my car, waiting for you to come out. My sunglasses are perched on the top of my head, waiting for the moment that they will cover my eyes from your view. I adjust the rearview mirror in my friend's car, positioning just right so I could see you come out of your house.
You stroll out casually and hop in that stupid pickup truck of yours. I watch silently as you back out; you pass by me without noticing. I slip my shades on and start to follow you. I stay a few feet back, not wanting you to see me.
Suddenly you stop at a house and walk up to the door. I notice you have a rose in your hand. The same kind of rose you gave me a month earlier. You knock on the door, waiting and twirling the rose in your fingers. Light floods the lawn as a girl skips out and throws her arms around your neck. You hug her back, squeezing gently.
I gape as you grasp her hand and lead her out to your truck. You open the door for her and she jumps into the cab. Quickly, you get into the driver's side and speed down the street. I follow you again until you stop at the carnival. You help her out and lead her to the entrance. I grab my baseball cap and jump out of my friend's car before you could disappear.
I pay my fee and watch as you throw a baseball at bottles stacked on top of each other. You win and give your prize- a teddy bear-to her, smiling. I frown and keep watching silently as you both walk around hand in hand. You buy her cotton candy and help her at the ring toss. You ride in the Ferris wheel and she clings to you, scared of the height. She laughs and swats you on the arm playfully. I remember when I did that to you.
I couldn't take any more of this. I walked out of the carnival, our carnival, to your truck. With my key I wrote out my name on the sides and front of the truck. The scratching of the metal against metal calmed my nerves and I felt my shoulders relax.
I turned around just to see you come out with your arm slung around her shoulders. She stops you at the entrance and pushes you against the fence. You and I knew what was going to happen next. You lean down and press your lips to hers. I silently take of my hat, letting my hair free, and take off my sunglasses. I lean against your car door, waiting for you to look up. When you did, I saw your beautiful brown eyes widen and your mouth drop open.
I didn't hear the carnival around me. I didn't hear the shouting of the girl beside you and I definitely didn't hear the sound of the cars rushing by me. All I could hear was silence. I shook my head, disappointed, and let a few warm tears slide down my cheeks. It took all the courage I had to stop crying and walk away. Which I did.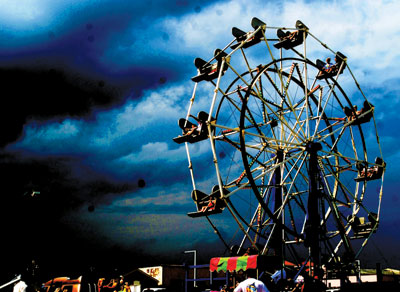 © Louis F., Norfolk, VA