Hallway
September 15, 2009
I walk down the hallway. I bet you're guessing this is the first day, week of school. It isn't. But it is within the first month...

ANY way, I'm walking to my locker with my friend. I see a herd of frosh (freshmen) standing in a "herd" around it.

I want to joke and say "move it or lose it frosh. Junior hallway. Preschools that way (point to stairs leading up stairs to frosh hallway.) But, I, begin to think, letting my friend's voice slip away...

I still can't believe I'm a junior. Its odd to see two classes below me, and wonder if thats how I was looked at by upperclassmen: a source of amusement.

Our school doesn't have any "strict" class rules: frosh sit on the top of the bleachers, and in the autitorium. Seniors get the front.

Frosh DON'T lurk in front of Junior lockers.

"SARAH! Earth to Sarah, Come in Sarah!"
"What?"
"Isn't that your freshmen buddy, Emily?"
"Yeah. Hey Emily! Hows it going?"
"I need to talk to you."

I automatically go into worried mode. "Just let me get to my locker, ok? We still have like three minutes left. Later, Miranda!"

I unlock my locker effertlessly, hearing the one frosh remaining with Emily whisper "They make it look easy." I don't bother trying to hide my smile.

"Come, Talk, Walk." I turn. Emily follows, her friend seems unsure.

Emily begins to tell me about something she saw in the girls bathroom. A senior girl, bullying a frosh! The girl was crying.

I felt a flash of anger. To tease freshmen about staying in their hallway is one thing, they know its a joke, but to make a girl three or four years younger than you cry??? No way, Jose.

I knew who it was before Emily even said anything. I wasn't surprised. Is that bad?

I agreed it had to stop. We made a plan and left smiling. My friend asked me what was up, and I asked for her help.
~~~~~~~~~~~~~~~~~~~~
I was sitting in a stall (actually standing, its so gross)and waited. I heard someone walk in, and a tube of lipgloss fell to the ground.

I knew it.

A frosh walks in and I hear in a super snobby voice: "What are YOU doing in here? Don't bother trying to fix your hair: you'd have to shave it. And your pores? EWW!!! Omg when did they relocate Mt. Everest to you're face?!?"

My anger is heating as i listen. I flush the toilet and open the stall.

"Well well well. If it isn't Monique."

"Hey Sarah! What up? That Psych test was killer, wasn't it?"

"No. Hey, what were you saying to the frosh?"

"oh, just, like, a superiority joke."
"Didn't sound like a joke."

"Um... It like was. Ok? And you're just like...a Junior, God."

"And you're a senior in Junior/lowerlevel senior classes. i'm in upper level classes.
This frosh is in sophmore classes. So at her age, she's 2 grades smarter than you were at that age." HA. I don't even feel bad.

"Um well... Sorry." and then i said

"For what? List it." I won't lie, i loved her saying what she all did wrong.

"And now you're going to help her with her hair and make up." I hand her all she'll need. I'll admit, it is quite a bit.

"Why would I do that? Give me 1 reason."

"I have the whole thing on video tape." Emily walks out holding my ipod nano. "And it's upload able to the internet. And i'll send it to the schools biggest gossipers."

Her mouth dropped open, and with that, she went to work.

Ahhhhhh... ... That was fun!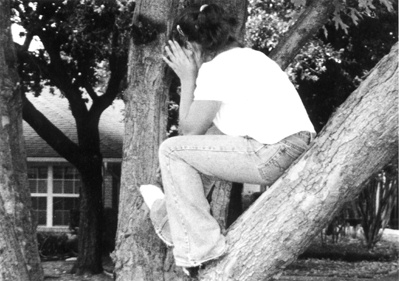 © Allyson S., Highland Village, TX