Realistic Fiction "Someone needs to tell"
October 2, 2009
I look through the window, totally in a daydream not even paying attention to what I was doing. First, my mind drifted on how my best friend found out she was pregnant. At first I was calling her a retard for letting something like that happen but the more I thought about it I realize that it wasn't all on her to blame. No one was there to tell her to use protection or better yet be abstinent. I remember the first time she told me she had lost her virginity. I gasped then laughed it all away. Only if I had told the long lecture my mom told me. "If generations could wait to get married to be involved sexually why shouldn't you, just because slavery changed the way we look at thing s, why should we let it change what we know and believe.
I wondered on, my mind floated over to the incident that happen jus 3 weeks ago with one of my good friends for the past 10 years. He found himself mixed up with the wrong people 3 years ago, forgetting all about me a true friend that care. He ended up in a light blue coffin in the home church we grew up in. I thought to myself "such an idiot, couldn't he have seen who his real friends where?" but then it hit me the day he walked away from me to go on the block I said nothing, I let him go. Only if someone even me could've tried to knock sense into him, maybe he wouldn't have went down that alley that afternoon. He would've been in the library with me and the millions of books.
I went on thinking, my mind stop on my most envious enemy who tries any and everything to hurt me and with the little mistakes here and there that I've made, I'm guessing she has enough to take my off the face of the earth. But before she hurt herself with grieves of grudging, I'll really believe that someone should stop her and tell her what she doing makes no sense at all. Instead of try so hard to break me down she should team up with me and other people that have dreams and ambitions and try turn our nation over on the right path and strive to rule the world. Hmmm…. When someone tells her, I'll be so happy. How silly I sound right? If there should be anyone to tell her it should be me. I'm sure she isn't as bad as she sounds she just miss understood. So there the solution to my problem.
RING…. RING…. RING…. There goes the bell to move on from History to Physics. The weirdest time to be daydreaming on these things, but at least there thought about and only if one person could tell someone "You are your brother's keeper" "Your responsible to see to it that you encourage, promote, and help your brothers and sisters to become as successful as you want to be". Yea only if, right?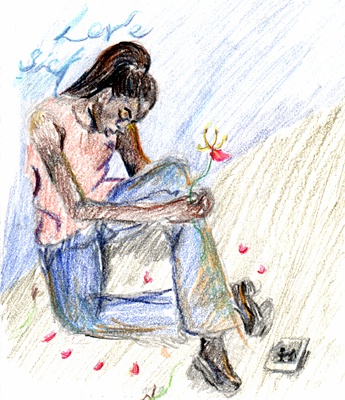 © Sherell B., Philadelphia, PA