What You Didn't Do
October 3, 2009
She walks in to the building of the school. You recognize her; you've seen her around. You just never really spoke to her. She's plain and pretty. She's pale and has brown hair, and shining green eyes. That may be the only unique thing about her.
She's quiet, though. So it's her fault you've never talked to her before. You've seen her laugh with her friends, so maybe she's just like every other person you know.
You don't know anything about her. She isn't different and she isn't beautiful. But for some reason, you wonder, is she any different? Could she just be hiding some amazing talent from the rest of the world?
So quick to judge, you realize. Maybe she's happy or maybe she's not. She doesn't smile unless a given reason. Every day before first period, you see her, alone. There is much temptation to walk over and introduce yourself because you're alone too.
Maybe the two of you could be alone together.
But no, you never do it. You shrug it off, and think, maybe I'll talk to her tomorrow. She seems friendly enough although she just seems so…unhappy? Is that the right word?
You come the next morning and you don't see her. Fine, she must have decided to stay home. Maybe you'll do that tomorrow and maybe she'll notice you weren't there either.
You end up going home early that day because of a severe headache. You can't look at lights of any sort without your eyes hurting and your temples throbbing. You feel sick, so you lie down in your bed and sleep.
You wake up in the morning. You turn on the television to see if your headache is reoccurring. No, it's gone. You feel fine, so you should be able to go to school today.
Something catches your attention on the television.
A girl's picture is in the center of the screen. She's plain and pretty. She …
"It's so tragic, isn't it? Children are dying so often nowadays because of this flesh-eating disease. I just feel terrible."
The news reporter's voice echoed in your silent house.
You stay quiet…
And then, you begin to cry. Why didn't you say hi to her before she was gone? You knew her, you knew her. But you didn't. You lost your opportunity.
And now, all you can do is stay home another day and mourn the loss of a person you never took the time to know. She lost her battle with cancer. You wouldn't have known her long anyway, but for some reason, that isn't stopping you from the want to rewind to the other day and introduce yourself.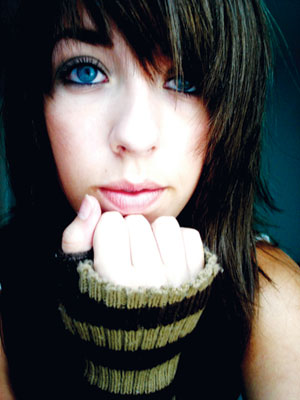 © Brit H., Peabody, MA