A Sax & A Flute
October 27, 2009
CHAPTER ONE


"Incredible." I smiled at Leah.

"You really think so?" She seemed hesitant.

"Of course! That was amazing." Leah and I were rehearsing for a band competition that was rapidly approaching. While I was busy grimacing over broken reeds and not enough money to buy new ones, Leah was just playing away. Her flute shone more than ever, now that it was polished and had new key padding. Leah stared intently at her high grade music as she blew softly into the instrument. There it was again- that pang of something... Jealousy. Leah was more talented than I could ever hope to be. Her high dollar flute was shiny and new. Not that my alto sax wasn't satisfactory- it worked fine, with the occasional register key malfunction. But it was used. It was used when we bought it. New Selmers were pricey, as far as I knew. The sax had scratches and scrapes. Its previous home had been a hard shell case with little interior padding. And finally, the bell was thin. That's the number one indicator of experience in music- your ability, your advancement. The thin bell revealed it was a lower level instrument. A beginning band student could play it. And here I am, going into advanced band. The sax I started out with in sixth grade was more advanced than this...but of much lesser quality.

I didn't take lessons. My dad was my first and foremost instructor- he was the real musician in the family. My grandfather and uncle could play acoustic, but neither could ever really read notes. But sax wasn't my stairway to the musical world- that was piano. I started a good seven years ago, coming in and out of lessons. There were a few solid years, but I was impatient. I was a perfectionist. Perfectionism is something musicians can use to their advantage- if they know how to control it.

Had it been my way, my piano lessons would have begun with jazz theory and how to "swing" eighth notes. But I was six years old. Not only was I too young for jazz theory, I was the perfect opportunity to be molded into what I like to call an anti-jazz, classical loving, prodigy revealing mastermind pianist. I wasn't against classical at the time- I was really still too young to delegate which of the styles I preferred. My instructor had me under her wing, and her wing had classical written all over it. It was in 7th grade that I joined my school's jazz band, and started taking jazz sheets to her when I needed a little help. That's when I discovered her ultimate distaste in jazz- how it wasn't an art form, how it could never be considered music, and how classical training should always come before that ugly form of whatever that "music" is.

For some reason, this hurt my feelings. I wasn't jazz. I wasn't the music itself. So why were her words stinging me like nettles? Because I loved the music. I sat home in the late hours of the night, listening and marveling at Miles Davis and Charlie Parker. Maybe because I worked so hard at the music, for it was harder than anything my teacher had given me- classical or otherwise. Perhaps it was the fact that this music brought on a feeling of accomplishment for me, when I learned the songs. When I could sit down and play a Miles Davis tune like Milestones, a recognizable piece, I had that feeling of accomplishment. Or...was it something else? What else could there possibly be, to explain this feeling of anger towards my teacher for saying these words? For the mere reason that jazz was now a part of me- its sounds, artists, improvisation, and that inexplicable feeling of joy I get when I hear and play it. But the improvisation? Well, that would come back to haunt me.

"Let's hear you, Chloe." I stuck a size 3 Vandoren in my mouth and moistened it. Put it on the mouthpiece, tighten the ligature...I pressed down the Eb key with my pinkie finger to warm it up. Eb always got stuck. And then I started to play. My part wasn't mediocre- but it wasn't advanced stuff either. More or less, my solo was just whatever I could improv (slang for improvise) at that moment. So what I was playing now might not be what I'd be playing at the show.

"Ah..." Leah winced. She was picking up on the fact that every time we rehearsed, my bit sounded different. "Do you think you could just, kinda, stick to one riff?" I looked her right in her eyes. They shone like crystals, with not a glimmer of a bad intention. Leah knew I was an improviser. Everyone did. I didn't like to stick the norm of things.

"Leah. Before now, you never had a problem with my style. I learned the solid tune to the rest of the song, didn't I? I memorized all the music for the rest- verbatim- did I not? All of my solos have been improv." Leah just kind of looked at me for a moment. For the most part, I was pretty accepting of the suggestions she made. I guess Leah was confused. Probably wondering why I wasn't being my usual self. But she couldn't get mad at me- she couldn't snap- for something like this, right?

"Chloe, please. This is the only song you've learned completely. Lucky Lucy? You improvised that entire song." Leah tapped her foot, vexed. The once calm, crystal eyes now burned with intensity. Was this really worth arguing over? Couldn't I just swallow my pride, and cooperate, if nothing for the betterment of the show and our performance?

"Fine. Fax me the music for the solo then. And I'll play it right down to the last staccato." I usually held out my last note in a solo, just for dramatic effect. And Leah knew it.

"You don't have to hold th-"

"Yeah, I do."

"No, you don't."

"Leah, just fax me the papers!" I shouted, and stormed out of the practice room. I strode down the hall and turned into what was labeled "Janitorial Services- Please Stay Out." I jerked open the door, after close inspection of the hallway. No one seemed to be there. I pushed my way through the mops, until I reached a tall wall painting of Charlie Parker. It was all the way in the back of the narrow room. I pulled on the right side of the painting and it swung open, revealing the room I was just in. I peered around, and heard something coming from the storage room. Leah was in there, probably tending to her flute. I reached down and pulled out my sax, the case, and my neck strap, lifting them carefully into the closet-like room I stood in. Carefully, quietly, I pulled shut the Charlie Parker painting.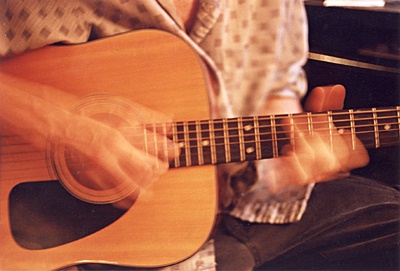 © James S., Philadelphia, PA