Voices
December 16, 2009
I had two voices inside my head. Both were my own. When I was alone, when they left me here, I heard them warring constantly inside me. One scowled down at me, calling my a sadistic wh***, that no one would care, not really, if I just went ahead and killed myself. So why didn't I? Then the other voice chipped in, softer and sweeter, telling me that it was wrong what I was doing, that the cross I wore on my wrist contrasted darkly to the scars it hid beneath it, but also that I was not alone. Often when I stayed at home, I heard them fight. Letting that razor slide across my porcelain skin, the skin everyone seemed to love so much, blood bubbling to the top, was the only way to shut them up. While my brother thundered up fake grass chasing a ball while my "family" egged him on, I slashed my skin, hissing in pained delight as the blood ran to my elbow. Pain I could control. Pain that was my own, not induced by anyone. When I heard the gravel crunch against my dad's tires as the car pulled to a stop in front of the house, I stashed the razor in my purse, tugged down my sleeves, and plastered on a fake smile.
The smile back, exitedly telling me all about his big win. But in my head, the voices are as loud as ever. Though I see my sister telling me eagerly about her life, a sudden truth made my blood run cold.
Suddenly I realized that these voices would drive me insane.
Late at night, when snores occupied the house, I snuck into the bathroom, stepping into the pristine tub. Blood gushed from my self-inflicted wounds, too much to flow to the rest of my body. A pacified smile spread across my face.
The voices have stopped, I thought as the world turned black.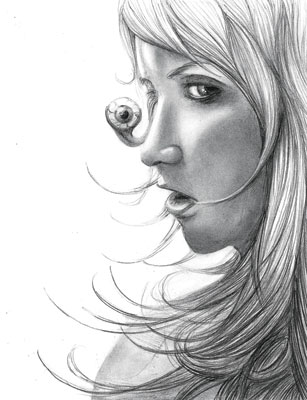 © Jessica P., Bethel Park, PA