Queen of the Jungle
January 8, 2010
As soon as the first whistle blows, everything but the black-and-white ball disappears. Everything morphs right before my eyes. The grassy field is now a jungle filled with plant life and the ground is matted with mud, dirt, and leaves. My opponents are small animals, insignificant to me. My teammates – powerful predators, ready to stalk the enemy and defend their territory. And I? The leader of the jungle – the fierce tigress who will make sure her prey will meet the back of the net.

This is my land. I own it, I conquer it, and I will protect it under any and all means. When the ball is kicked, I shift into stalk mode. My eyes track the ball's e very movement as I strategically move towards the goal. The players are dirty; grabbing each other's jerseys only to find that they slither away, able to slide out of the enemy's claws.

The game is a rush, yet still so like our neighbors in the Animal Kingdom. I hear lions roar in frustration as they get fouled, hyenas cackling when they see their enemy is confused, rhinos charging the ball, even puppies whining as they argue with the referee. Always, I feel like this is my jungle, and that no harm can come to me here.

Then the ball soars above my head, and I know it is time to attack. No more stealthy mind games, I go in for the kill. I can taste the adrenaline in the air as my animalistic instincts set in. Making a mad dash for the ball, I feel fast as a cheetah. Right when the ball touches my feet pounding across the ground, the calls start. Elephant trumpeting, monkey hooting, growling snarls from the cats, all urging me to go, and I do. My mind is set on the goal, like tunnel vision.

I don't even think; as soon as the goalie takes one step out, I cock back my leg and put the tigress's ferocity and strength into the ball. The ball makes a whooshing sound as it slices through the air, and it's in! Now I feel hooves and paws pounding on my back, the entire kingdom has erupted into screams as they praise their queen again.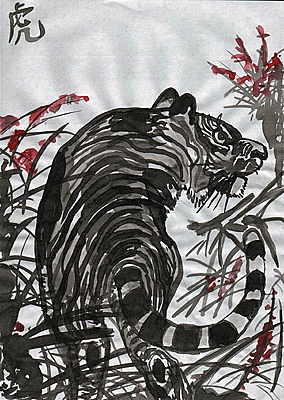 © Xin H., Elmont, NY