Sea Glass
February 7, 2010
If Sarah and I dropped dead on the beach and no one was here, would anyone know? Probably not; we're here by ourselves, and the nearest town is a mile away. It's early morning, the clouds orange and pink. The sun is their breakfast, melting butter on the sea.

Among the pebbles by the water, bright-coloured sea glass reflects the sun. Sarah plucks a red shard and holds it to her eye, dying her blue iris a translucent plum. The tide has washed away all traces of footprints. I pretend we're the first ones ever to be here. I slide off my sandals and dig in my toes, cool saltwater licking at my heels.

Sarah skips ahead, foam flip-flops in hand, along where the ocean kisses the sand. She unties her hair, a tangle of black curls, from the knot at the nape of her neck. The wind flattens my cotton T-shirt against my stomach, and Sarah splashes me every time she skips. The sun warms us, dribbling across the waves; maybe it's the clouds' breakfast, but maybe it's ours.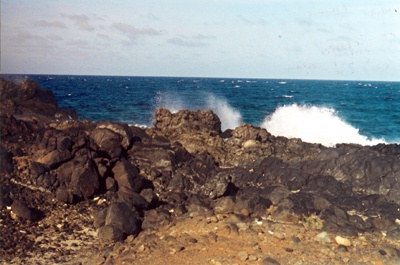 © Matt A., Smithfield, RI