Dare You To Move part 3
March 19, 2010
Gavin


Bridget was beautiful, gorgeous even. Her brown hair was tied up in a rubber band at the nape of her neck. Her green eyes were stunning as they pierced through everyone around us while we pushed our way through the halls to science class. It was almost as if she read through everyone's fake persona and saw who they really were.

The halls were filled with teens rushing towards their third period class. Some headed for social studies, others for AP English, but all in a rush. Except for Bridget and me, for we meandered through the hall slowly. Neither of us spoke.

When we'd wandered into science together, some people who were already in there stared. I believed that they were thinking, "Gavin Hutchison with that girl?" "I've never seen her." "Wait, doesn't he have a girlfriend?" "Isn't he with Deidra?"

I looked at Bridget, who seemed scared. This classroom had more people in it than the last one, so she tensed up. I could feel it.

"Gav, what's up?" Tristan Faulkner came up patted me on the shoulder as he dragged me over towards the desks where he and a couple of other guys on the basketball team were sitting. I noticed that Bridget didn't follow.

"Hey, man, who is that girl you come in with? 'Cause she is fine."

"Oh, that's Bridget Waters. She's new here and she, you know, wanted to walk to class. With me. She wanted to walk to class with me." I stuttered. What I really wanted to say was, "Guys, this girl is damn fine and she is going to be my girlfriend if I can ever get Deidra off my back." But of course I couldn't say that because that saying would eventually get back to Deidra, who would stab me in my sleep.

"Well, since you're dating Deidra, can I have Bridge? See, I even have a nickname for the lady already!" We laughed, but mine was half-hearted because in my mind, I wanted Bridget. I looked back over my shoulder to see Bridget talking to Mr. Wells, the science teacher. He pointed to a desk in the front of the room next to a group of cheerleaders. When Bridget sat down at the desk assigned to her, the cheerleaders looked at her and snickered. I was about to go over and talk to her, but at that moment the bell rang and we were told to sit in our seats.

I didn't pay attention to the lesson on osmosis that Mr. Wells was teaching. Instead, I kept my eyes fixed on Bridget, who was paying close attention and taking detailed notes in her notebook. The girl sitting next to her kept texting under the desk, and from the way some of the other girls giggled quietly to themselves and stared at Bridget, the girl was texting them. I was disgusted at them. How cruel did they have to be to the new girl of whom they didn't even know? The girl was behind, so she was taking notes in order to get on track! I hated them for doing what they were doing, especially since they didn't even know what was going on.

Mr. Wells sent us to do some independent homework, so I decided to ask if I could help Bridget do hers since she didn't really know what was going on.

"Excuse me, Mr. Wells?"

"Yes, Gavin?" I was standing at his desk, and he didn't even look at me. I always thought it was weird that some people could know who was there even if they didn't look to see who it was.

"Um, I was wondering if I could work with Bridget because she doesn't really know what's going on." I crossed my fingers behind my back in the hopes of being allowed to work with her and save her from being alone with the cheerleaders teasing her behind her back.

"That's very nice of you, Gavin, but it looks like Bridget already has some help." I whirled around to see a terrible sight. A black haired girl wearing a Guns 'n' Roses t-shirt that showed some of the skin on her stomach, and Converse high tops. This was Deidra, trying to "make nice" with Bridget. This was not going to end well.

Deidra Hinders


"Did you see your boyfriend with that new girl?"

"What new girl?"

"Her name is Bridget, or something like that."

"Bridget Waters?"

"Yah, that's it."

"Well, she was in my art class. She ran smack into me on her way to sitting next to that Goth girl, Kelli."

"She's kinda pretty, I mean…"

"Shut up! Whether she's 'pretty' or not, she's flirting with my boyfriend! Where were they going?"

"Science. Mr. Wells's class, I think."

"Perfect. I'm headed there next. Time for some payback for that little boyfriend stealer." I rose one perfectly quaffed eyebrow as I slammed my locker door shut. My friend, MJ Hamilton, was standing next to me, telling me the things she saw.

"You're not going to hurt her, are you? Because I doubt that Gavin would like that too much. He seemed pretty protective."

"Well, I believe that because I'm his girlfriend, I will be the one he protects more. And let's face it, this Bridget girl is a threat to our relationship. The way I see it, I'm going to be as defensive as he would be for me. No harm, no foul." I winked at MJ, and she nodded, totally and completely agreeing with me as any best friend of mine would.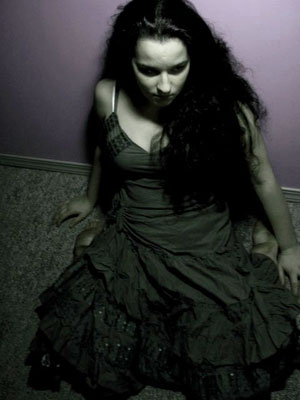 © Brianna D., Everson, WA