Not-So-Sweet Sixteen
March 13, 2010
8:25 a.m.
I wake up, already semi dreading the day that is supposed to be one of the most important days in a teens life. It's a day that everyone has celebrated through out the years where presents and kick-ass cakes are involved. It's a day where most teens get their first car and an excuse to boss their parents/guardians around. But, not me. I'm doing nothing to celebrate. And as I roll out of bed and into the living room I see that my mom isn't doing anything for it either.

8:45 a.m.
Mom mumbles a 'happy birthday' in my direction and asks what I want for breakfast because, after all, it is my birthday and I get to choose. It's not like I have a lot to choose from anyway. So I ask for a bowl full of Honey Bunches of Oats (which I don't really care for but, it's the only cereal we have) and a piece of toast lathered in butter.

9:01 a.m.
Yesterday, we had checked out an entire load of DVD's from the closest library since we just moved in and we don't yet have cable (Or a clean pool, or internet, or warm water…). So after breakfast I decided to watch a movie. It was good and, for the most part, I was pretty content. And that's when my mom got a phone call.

10:05 a.m.
My niece came over to play with her grandmother; my mom. And I was stuck with holding the dog, Charlie, while she stepped inside and took over. Her mom had sent her with brownies, cinnamon rolls, no-bake cheese cake, and sugar cookie mixes especially for my birthday. I thought, Hey, what a good idea, I have nothing better to do so I'll cook . It will be fun. So when we all went in the kitchen, my mom pulled out everything and said to my niece, "What do you want me to make?" I wonder if she even thought to ask me what I wanted on my birthday. I wonder if she momentarily forgot about me while searching in the big and beautiful eyes of her one and only grand daughter. I wonder if what I wanted even mattered to her. Call me over dramatic but, I got mad. Real mad. So I stomped to my room and slammed the door behind me.

10:45 a.m.
I've seen many sixteen year olds celebrating their sweet sixteen in style. They pull up to a huge building full of friends, enemies, and loud music that's all there for them. All though I'm sure their peers are only there for free food and an excuse to rub bodies with the opposite sex. I've seen teens jump out of cakes like strippers, dance their way in, ride on top of an elephant, or even one of those really big and mean birds whose names I've forgotten. Maybe that's just MTV but, others who aren't rich enough to produce their own television show still celebrate with family and friends. They go out to eat, open presents from loved ones, see a movie, and skip from store to store as they shop for new clothes. I'm not doing any of that. Right now, I'm sitting in the bathtub fully clothed with no water running. It sounds a bit emo, right? Truth be told, I really don't care the slightest bit. Anyway, I'm drawing pretty pictures of the numbers 16 and then carefully scribbling it out with enough anger to make the pen explode and have a shower of blue ink. But, of course, it doesn't explode. That would have made my day a bit more exciting.

11:11 a.m.
I've never believed in making wishes on the numbers 11:11. But, today I thought I would give it a try. I wished for the best birthday ever. I knew it wouldn't come true, the beginning of my day was already ruined. I sigh, and sink further down into the violet colored bathtub. How long have I been in here? I can hear my mom screaming at the dog whose only a couple of days house trained and still makes mistakes on the carpet. At least she's entertaining my niece; I can also hear her quit giggles. I can smell the brownies from the other room and my mouth waters. A flash of anger shoots through me and I'm reminded that I'm still furious and miserable. I know I'm being childish when I shouldn't be. I'm sixteen years old for Pete's sake! I'm not a little girl anymore… So why am I crying?

12:48 p.m.
My phone has been buzzing constantly today. I have gotten around twenty or so text messages saying, "Happy birthday Taylor" and "Happy sweet sixteen" but, from no one special (apart from my siblings). Finally, I turn my phone off so I won't be reminded that I'm not doing anything to celebrate my sixteen years of existence. I sit down and try to read but, I oddly I find it boring and extremely unsatisfying on this horrific day. I turn on the radio but, I hear no music, just sounds that run together. I try to think of something to do, something entertaining that would make this day fly by but, nothing comes to mind. Finally, I lay down and I try to sleep. Instead, I find myself wishing that my mom were lying down with me, stroking my hair, and telling me that I'm one of her main joys. But, of course, she's with my niece in the other room, telling her the very thing I long to hear.

4:06 p.m.
Some time in between staring blankly at the wall and staring blankly at the ceiling, I fell asleep. When I woke up I felt refreshed and renewed… Until I remembered it was still July 22nd (aka: Dooms Day) and I'm still unbelievably bummed out. I sigh the most desperate sigh I can manage and hurry to stuff a pillow over my face. I wish I could go back to sleep. There was a soft knock at the door before it was pushed gently open "Tay?" I could hear my mothers steps on the carpet coming towards me. I pretend to still be asleep. "I fixed lunch." She continued. I roll my eyes underneath the pillow. What consisted of the birthday gourmet that awaited me? A peanut butter and jelly sandwich without the jelly, perhaps? Or maybe it's a grilled bologna sandwich with mayonnaise on each slice of nasty wheat bread? My stomach rolls and grumbles achingly. I slowly pull the pillow away from my face.
I refuse to look Mom in the eye when I say, "As a birthday wish, can my feast be served in bed?"

4:30 p.m.
As shocking as it might seem, Mom isn't all that much of a screw up. She cooked my favorite dish, Shepherd's Pie, in honor of my sixteenth birthday. She served it with sugary green beans, a tall glass of Dr. Pepper and a brownie for desert. Yes, it was a brownie that I wanted to make myself but what can I say? Nothing's going my way anyhow.

6:02 p.m.
This day just keeps getting better and better.

7:55 p.m.
I dressed up. I fixed my hair by straightening all the curls and waves and spraying down all of the frizzies with a can of hairspray. I parted my hair just right, making sure one eye was covered up by the brunette locks. I put on my favorite dress (actually it's my only dress) and slipped on a pair of knock-off-high-tops to coordinate with my mood. I applied my make up heavily and added a dark, crimson color to my lips. If only I could rub off my tan, then I would fulfill my needs of being undoubtedly emo for a limited amount of time.

10:11 p.m.
My eye lids are heavy. But they hurt when I close them. I'm staring into the dark, shadows and other figments of my imagination are looming overhead, clinging to the walls but never straying closer to me. On a normal day this would frighten me. But this is no normal day. This is the sweet sixteen from hell. I give all my appreciation to the small girl in the other room who has decided to spend the night and to her grandmother who is making her stay as fun and as welcoming as possible. My head hurts. I guess it's from crying. That would explain why my cheeks are terribly stained from black tears that I wouldn't usually posses. The door opens and someone walks in. Of course it's my mom. I can tell by her slow and careful movements that she think I'm asleep and I don't let her think otherwise. She cautiously bends down to press her lips to my cheek. The act fills me with a warmness that I can so easily recognize. "Happy sixteenth birthday, my baby girl." She whispered softly in my ear. "I'm sorry it was nothing you expected but I'll make it up to you." She climbed up beside me and laid down, softly stroking my hair with her motherly touch. I smile in the darkness and I relax all the muscles in my body, not knowing they were tense in the first place. I lean in to her touch. She laughs quietly out of admiration and out of pity. She sighs in a manner that is not exactly unhappy and she whispers, "You are one of my greatest joys."
I cough up tears loudly and violently and I meet the woman beside me for a desperate embrace.

11:27 p.m.
Mom is snoring silently in my ear. The sound is lovely and comforting. I flex my fingers that are intertwined with hers and lie them back down. I close my eyes, instantly forgetting about what took place however many hours ago. My mind wonders from one thing to the next, to the next… And I slip into a world that is my own. There, I am a small child. And I need someone to look after me, to hold my hand, to fight off the shadows in the darkness. There, I don't think about what to wear the next day to school or how many flirty smiles I can pass off to one guy. There, in my world -my happy place- I am far from sixteen years old.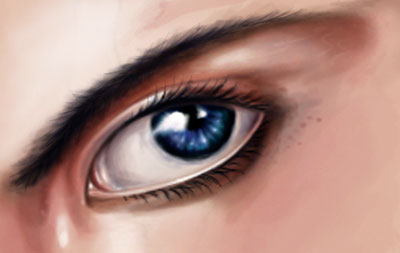 © Raul R., Monte Vista, CO