Courage Can Conquer Anything
April 9, 2010
So is this what it felt like to never walk again? Trapped in this metal chair for a week now, and I already feel antsy. I keep having the urge to stretch my legs and wiggle my toes. Every so often I try to scratch the itch out of my knee but it hurts to bend that far down. I overheard the doctors talking to my mom saying I would not be able to even get out of this devil chair without her help. My heart sank as I heard these words. No more running and jumping, riding a bike or even walking outside to get the mail like a normal teenage boy. No more anything. I could only think of one positive thing comming from this situation; my arm muscles will get stronger from wheeling myself everywhere. Well isn't that something to look forward to? Only one thing came to my mind from the night of the accident. My friend led me into her car, wearing bloodshot eyes and holding my hand with her wet clammy one. As she drove off onto the highway we swerved from lane to lane. I closed me eyes knowing something was going to happen. The next time I opened my eyes, I was laying in a hospital bed with breathing tubes up my nose.

Today is the first day of physical therapy. As my mom wheels me into the office I look around and see many other people like me. Some with broken arms and some with sprained necks. Then I see a boy watching t.v. He is also in a wheelchair with a broken back and ribs just like me except I am worse off. My legs are also messed up. When I am called into the room I wait patiently for the doctor to come in. I am scared. I do not know what to excpect. After all this will be my first time out of my seat. I try and try with all my might with the help of the doctor and my mom and finally I am on the checkup table, and I am breathless. This is going to be a long journey. I go to therapy every Friday after my home schooling is complete. I am slowly getting better at standing up myself. Each time I attempt to stand my mind races and tells me I am going to fall, and I do.

A year has past since the accident and I have made huge progress. I can now go to a real school without that wretched wheelchair. I use a back brace. I feel the stares of my peers as I walk down the hallways. They look at my brace and think of me as a robot. Two months later and I am fully walking on my own. I continue to go to physical therapy to make my back stronger. The doctors are convinced I am a miracle. I just tell them I got lucky. An oppurtunity sprang up one day while walking the halls in school. I picked up a flyer that contained the words "Find your inner outdoorsman, climb to the top of Mount Everest!" Then there was a picture of the monstrous mountain. I knew from that moment I had to do this. I took the flyer to my mom and she looked at me like I was physco, but I was determined. The day came and I packed up my bags. I sat in the school bus with the rest of my peers. This now became a journey of proving myself. I watched as each student put on their gear and headed up the mountain. My body was shaking and chills were covering my skin. Suddenly it was my turn. As I started to climb my mind starts to race once again telling me I will fall. I look down at the teacher. The features on her face have disappeared, which tells me I am very high up. But I dont let my mind control my body. I start up again. Every step I take, I am closer to my goal. This is the hardest thing I have done in my life. My muscles start to pull and a surge of pain shoots up my spine. Tears form in my eyes but I continue on.........As he approached the top of the mountian, he raised his hands in victory.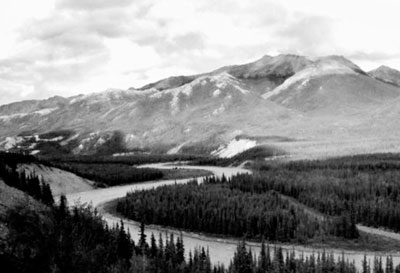 © Hannah B., Linwood, NJ