lost. prolouge
April 10, 2010
The cold, red familiar eyes stared at me in disgust. I knew what was coming. I could already taste the blood that was oozing from my bitten tongue even though the pain hadn't been inflicted yet. I was lying on the floor. I was cold and I was miserable. But most of all I was surprised. I had done everything right. Nothing had been done wrong, well, by me anyway. I tried to find somewhere in my mind that had a closet full of good memories. I needed somewhere in my mind to hide. But, there was nothing. I could only think about what was coming.
I edged my crumpled body back towards the wall. I tried to hoist my self up by holding on to the wall. Suddenly, a heavy fist crushed into my stomach. I heard the crack. I was pretty sure she had too. She laughed. She pushed the other fist into my stomach again. Intense pain washed over me. I had the urge to scream, to run, to fight back. But I knew each option was impossible, and each option would make her more angry and more violent. So I blanked it out. I focused only on the after of my pain. I remembered the soothing numbness of when I had blacked out the last time. It seemed a long time until it would come, so I prayed.
The final hit was a crunch on my jaw. She definitely heard it as she laughed out loud again. I hadn't had the luck to pass out during the attack, but it was coming. I could feel the numbness wash over me, edging me closer to rest.
I was lying there for what seemed like hours, still painfully awake. She had left and run upstairs.
Finally, the blackness washed over me, but not before I heard the lugging of suitcases and plastic bags down the stairs. And I knew it was safe to rest. I just hoped my mother wouldn't be back anytime soon as I heard her click the front door behind her.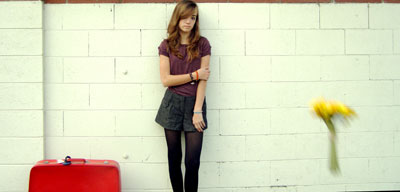 © Austin K., Studio City, CA