Silver Legacy-Chapter 1
April 16, 2010
Chapter 1

The Accident
********************************
I guess I should explain how I ended up here.
My name is Lisa Ortega.
I am an event rider from Southern California, and I am in the Intensive Care Unit of one of L.A.'s biggest hospitals, under close surveillance to make sure I don't slip back into the coma that nearly took my life.
I have four cracked ribs, a broken leg, and a partially shattered skull. I was poised to become one of the greatest young eventers of the decade, and I am only sixteen years old.
But in one horrific moment, all that slammed to a halt.
Let me tell you how it happened.

At the North American Young Rider Championships, I was the youngest rider to be doing the CCI** course. After a flawless dressage performance, I felt confident about my cross-country round.
I was warming up now, wearing my top-of-the-line back protector and my USEF medical armband. My head was sweating under my helmet in the sun of Thursday, August 26th.
The incredibly versatile and talented—and mostly well-behaved—stallion I was riding had been perfect for my entire warm-up
Excalibur (King to those who knew him) hadn't refused a fence in his entire career. In what seemed like no time, it was my turn to go into the small starting box.
My trainer, Corinne Williams, looked on as I shoved my heels further down, loosened up my neck muscles, and took a deep breath as the clock ticked off the seconds before we would take one more step towards a gold medal.
At the sound of the buzzer, King exploded from a standstill to a flat-out gallop. Just strides before the first jump, a simple log wall, I shoved my seat into the saddle, deepened my heels, and looked ahead of the jump.
King launched into the air with his usual stamina and power, landed smoothly on the other side, and galloped off toward the next obstacle.
The sun beat on my back as we effortlessly cleared the next three fences and flew over the ditch.
Up ahead were the banks. I collected King's gallop and sat back a little as we bounced up, over, and down. I slipped my reins, shoved my heels forward and down, and leaned back as we dropped off the back.
I had to pick up my reins in seconds to be ready for the narrow one-stride ahead. We flew over the brush combination easily and galloped toward the water. I slipped my reins as we dropped into the cold water. It felt great in the summer heat.
Still in the water, we popped over a green coop, then a barn-red roll top before galloping up and out of the water.
We were on a home stretch now.
Only the table and the trakehner stood between us and a huge lead.
We easily cleared the table with several inches to spare.
Gold medal, mine, I thought as we landed. The finish line was in sight. Only the trakehner stood in our way now.
Just strides out, King took a funny step over a small tumbleweed.
We were too fast and his stride was wavering. I tried to steady him, but he was just the slightest bit off. Suddenly the sun was too hot, my helmet was too tight, and each of King's hoofbeats was unbearably loud.
Fear rose like poison in me as King lifted off the ground. I knew we wouldn't make it. King hit both front hooves on the high point of the log, and as if in slow motion, flipped over.
He slammed into the ground at the same time I did, reins and stirrups flying. Everything went black for a split second. My eyes were open, but I couldn't see.
When my sight suddenly returned, I was ready to get to my feet and help my horse up, but as soon as I moved, I knew something was seriously wrong.
My head was splitting open. I put my hand up to touch the shattered remains of my helmet and felt blood. My right leg was clearly broken, bent at a sickening angle halfway up my thigh. My vision was extremely blurred. Blood was spreading fast across my riding pants. From what I could see of King, he was badly hurt.
My vision swam and tilted, and I threw up.
It hurt to breathe, and everything kept going black. My ears were filled with an odd humming sound, but I still heard someone scream.
"STOP! FOR GOD'S SAKE, STOP!"
Seconds later, a horse and rider came to the jump. I saw the horse's front legs lift, then the horrified expression on the rider's face as she realized she had no option but to land on us.
A hoof landed on my head with skull-shattering force and I lost consciousness.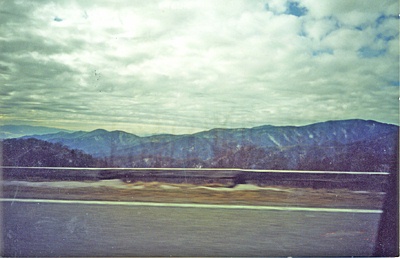 © Valerie W., San Antonio, TX