Did It Hurt
April 21, 2010
It's fine. It's alright. It's only when I have a bad day that it all feels like too much. Like today. I feel like I am lying on the ground, staring up at the ceiling. Looking at something but not really looking at all. It is only when my spine cracks like black ice against my backpack. It is only when the sun sprints up the sky, eager to sear down upon me. When words are just music, and I hear nothing at all. See nothing. Hear nothing. Feel nothing. And that's when memories of you rush in. Filling up the nothing. I am bursting with thoughts of you, but I have never felt so empty.

thinking about you hurts, but it's good hurt, like aloe on a sunburn. Your calming stare used to steady me. How am I expected to function without that? Without my rock? They say age is just a number. Maybe that's the same with death. Maybe death is just an empty desk in History class. Maybe its no big deal. I know I'm lying to myself. That empty desk in history means so much more. It means the end of my world.

I have dreams. Dreams that I see you. That I am so eager to say all the things I never got the chance to tell you. But wanted to tell you. But really really wanted to tell you. I am so eager to speak that my words come up my throat all at once and clog there. They push my air out. I suffocate. I suffocate from my absence of breath. I suffocate from my silence. And I never really got to tell you anything did I? I just gasped and quivered. Gasped and quivered.

And here I am now. Choking on my words. Staring at the empty desk. Back cracking. Eyes on the ceiling. Just trying to get through another day without you. I can't be strong for everyone. Why can't everyone be strong for me.

I know that I am supposed to be thinking about deep things. About god. About what happens when it's all over. But I can only think of your face. Why did you leave me? Why did you commit the ultimate wrong? Why? Why?
And how did it feel...
did it hurt?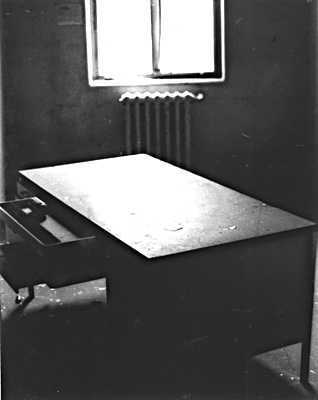 © Flynn O., Novato, CA