The High Dive.
June 16, 2010
"On the count of three, we both jump. Okay?" said Nate. I fumbled with the strings on my bathing suit. It was my favorite one. I begged my mom two weeks before to get it. I thought the neon colors made my milky skin look tanner; now I am not sure if it flatters me the same way it did in the dressing room. It was only five minutes ago when Nate's mother dropped us off at the local pool. He grabbed my arm and starting walking me over to the one place I knew I didn't want to go. We made a deal. I had to go through with it.


I closed my eyes, maybe it would be easier if I didn't see where I was falling. "Hey, I am paying you five bucks to do this. So open your eyes." I sighed and began walking slowly, solemnly. My face went pale. There it was. I hesitated, I didn't want to do this.


My entire body screamed in panic. "I can't. You win. Tell every one that I kissed Matthew." I said, letting him know that jumping off a diving board ten feet up is not exactly what I consider fun. He took my hand and said to me in the kindest tone, "I'll be with you the whole way. I won't let go.. I promise." I felt a little more relieved knowing that he was going to drown with me. I kept thinking in my head, "I'm only ten. God isn't ready to take me yet."


I grabbed on to the first bar. It was slippery and cold, a refreshing chill went through my arm and neck. It was a strong contrast from the blazing sun. I took it slow, clutching on to the little bars. I began to wonder if my best friend was still behind me. He tended to play tricks on me. I slowly turned to see his toothy grin, which once again comforted me.


I reached the top. I was amazed to see all the people below. I could see Maggie Myers, the new teen mom holding her baby and inhaling another drag from her cigarette. Down the street, some kids from my fourth grade class were running around with water guns. The newlyweds were having an argument about the new dog. I saw the chubby kid that I used to make fun of chowing down a popsicle.
I saw the squirrels running around with acorns stuffed in their cheeks. The pigeons were picking up left over crumbs in the parking lot.


Nate took my hand, "All systems go?" I giggled. "I think so.", I replied with a positive ring. I inhaled the fresh air. My companion was with me, I was ready for this. We ran to the edge, closed our eyes, and jumped.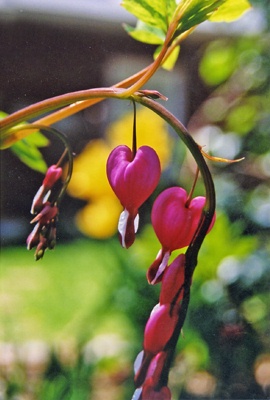 © Sophia E., Wilmington, DE