Free Fall
September 2, 2010
First and last, you always wonder WHY.
She feels her hand slipping out of his, and his try to regain his grip. His face is a battlefield of emotions: despair, hope, ferocity, but the most visible is the mask of anguish. The silent promise that if he let her go, he would never forgive himself.
Though her will to live is strong, she doesn't want him to suffer so much for something that was barely his fault. And as he loses her by another millimeter, a millimeter that is so small yet so immensely huge, he redoubles his efforts. She tries to help, but there's nothing to hold on to. Nothing but him and the life that she could suddenly feel evaporating, like the early morning ocean mist. A tale told and heard and experienced and remembered. Taken forward as nothing but memories.
And she didn't know if she was allowed to keep the memories.
Sweat runs down her neck, her face, into her eyes, though the sun is hiding behind a playful cloud. His face is the brightest thing around her, glowing with effort and sheer desperation. But all the despair in the world couldn't help him keep his hold on her, let alone pull her back up from the only fate this chasm could offer. A painful death.
The silence is somehow deafening, which is strange because there is no silence at all: the river is gushing below her, the sounds magnified by the rocky surfaces around it. Yet the silence is what bothers her, not the noise.
"I'm sorry," she whispers.
He hears her, but ignores it: he doesn't need an apology.
There are no tears. She's surprised. But there are no tears.
As her hand slipped out of his, she wondered why.
Why did she have to die? Had she done something wrong, something that made her deserve a death so obvious and difficult? Couldn't she have another try?
As soon as the thoughts are out, she feels silly for asking. These questions could never be answered. It is mere waste of time. Time, of which she has precious little.
Strangely enough, her next thought is of the pain and regret most people have written all over their faces when they die. She doesn't want that; she wants her corpse to have a peaceful face.
A slideshow starts in her head: memories that she treasures and relives whenever she needs to. Her first victory: the erupting joy in her heart when she finally maneuvered her first bicycle, her sixth birthday present. The glow in her father's face. The first time she'd tasted Rocky Road icecream; the delightful sweetness melting in her mouth. Her first trophy, her first kiss...
The night her best friend died.
She shakes that memory away as she falls, the airy weightlessness like a cushion lulling back her into the dream that is her life.
Her wedding.
The flowers, the tears.
Him.
She violently breaks the churning surface of the water, and her body makes an effort to keep her alive for a few seconds more: she takes a massive breath before she completely submerged. Trying to swim is no option: she is completely out of practice and the waters are impossible to negotiate. It would only draw out the process.
And besides, the water is just another denser cushion, not bothering her as long as she didn't struggle against her fate.
Him.
As his images fill her mind, she exhales. And breathes in again: breathes in the cold churning water.
And the last thought in her head is: Why did it have to be him? Why did he have to see me die?
And peace.
A peace that transcends human peace. A peace so complete and absolute, that the whirlwind motions of the river are no match for the it. The peace overcomes all the violence.
And she loses herself to it.

Above her, he watches her vanish. His first thought when she'd teetered and he'd grasped her had been: Why? Why her?

And now, again: Why? Why her?

First and last, you always wonder why.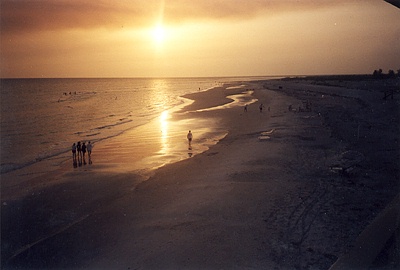 © Sara C., New Port Richey, FL