Bright Lights
September 8, 2010
As I sit here I contiplate the meaning of life. I can't think of anything else. Ever since Justin passed away I can't move on. It was such a roller coaster type of day; filled with ups and downs.I was so happy. I could not wait for Justin to return home from work, so I could tell him the good news. We were going to be parents for the first time. We've been together for 10 years now. We met in our freshman year at highschool and ever since then we've been inseperatalbe; until now.
In highschool, we were complete oppisites. He was a loud, obnoxious jock who went to all of the parties. I was on the other hand, was a meek, naive girl who stuck to herself. We met thanks to Mrs.Greene who put us together as partners for an assignment. Since I was so shy and kept to myself I never told anyone that I had a huge crush on him. So for about three months after our project was finished I crushed on him in the depths of my heart and I never told a soul. Until one day my best friend and I were talking and I told her I had a crush on him and she didn't tell me this before but that was her brother they were twins but not the identical type.
Well a few days went by and as I was walking to my locker he was there waiting. I approached and quietly asked, "Is there something I could help you with?" "Yes" he replied. "OK what?" "I wanted to know if you would like to come see a movie with me? My sister told me that you liked me and I actually liked you ever since Mrs.Greene put us together as partners."
As he stood there in silence I stood there and thought, could this be real? Could he actually be asking me out? "So will you go with me please? I don't want to walk away looking like a fool," he said so meekly. "Yes, I will but if I find out this is just a plan to make a fool out of me I will persoanlly hunt you down and make you life hell," I warned. "I promise you this is nothing like that" he replied. From that day on we dated.
Well, we went to college together then in our sophmore year he proposed to me. I still remember his words to me when he asked me on Christmas Eve, "Ashlynn Marie you are by far the prettiest girl I have ever seen and I could not imagine my life with out you. When I lay my head down at night you are the last thing I think of and you're the first thing I think about in the morning, You are a God send. With this being said in front of your family I would like to ask you to be my wife." Of course I said yes or we probably wouldn't be sitting here right now. Our lives together was quite amazing.
Well, back to what happened. Justin was on his way home because I told him that as soon as he was done with work he had to rush right over because I had some news to tell him. It was raining and Justin was blinded by a pair of head lights that belonged to a drunk driver. He hurried up and jerked the steering wheel to aviod hitting him. That caused the car to spin out of control and he hit a tree right on, the tree ended up crashing down right in the middle of his car.
He was rushed straight to the hospital. They had him in a hospital bed and I got to tell him that we were going to be parents. The doctors came in and told me that he wasn't sure how much longer he will live because when he hit the tree it crushed his ribs causing his heart to become very weak. I stayed with him throughout the night just holding his hand and telling him that we will make it through. Then at 2:30 a.am. he passed away. I didn't want to believe it. I can not except that he is gone. The sad part of this all, I blame it on myself. I should've told him to be careful or told him over the phone the news, but I didn't I messed up and it's my fault the love of my life is gone.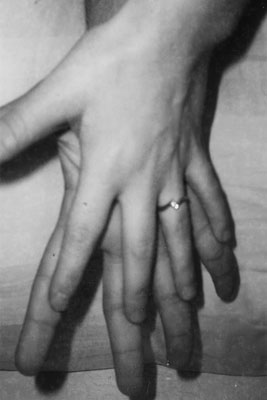 © Heather H., Phoenix, AZ