The Beginning of the End
December 22, 2010
We sat in the luscious green wheat field. The wheat was young and not yet brown or ready for harvest. The blades swayed with the warm summer breeze. Any houses were at least half a mile away. It was easy to open up your heart in such a peaceful, secluded place. We came here often on the weekends, just to talk about whatever was weighing us down that week. This week it was my parents' official separation. Ryan would be the first to hear the news. He lay next to me, and my head rested comfortably on his chest as I watched the tips of the wheat sway back and forth, back and forth, in steady, unchanging motion.
"My parents are splitting up. My dad packed up and left yesterday. After the divorce is final, I'll probably never see him again… I saw it coming but…"
"It still blows." Ryan said in understanding. I knew he felt my pain, for his parents split up a few years earlier. He only saw his mother a couple times a year.
Ryan was staring at the fluffy white clouds moving steadily across the blue. I rolled onto my belly, so I could watch his face. I ran my fingers through his soft smooth golden hair; the hair I wanted. Mine was mousy brown and utterly boring, like the rest of me.
"You're super gorgeous you know." I told him. "You can have any girl… and yet you remain single. What's wrong with you?" I poked his stomach and he squirmed and sat up. "I would use my good looks to their full potential." I sat up Indian style.
Ryan grinned mischievously. "Jealous?"
"You know I love your hair."
"Yours is nice too."
"How so?"
"It's naturally curly. As far as I'm concerned, curls are cool."
I shrugged and lied down on my back. Ryan watched me a moment. "You don't even know how pretty you are."
I rolled my eyes. "You HAVE to say that. You're my best friend." I look up at the clouds, still steady and unchanging. The way I wish life was. The only steady thing in my life was Ryan. "No guy will ever find me pretty." I added after a moment.
"I find you pretty."
"You don't count. You're just my friend."
"Or maybe I'm just not into big boobs, blonde hair, and itty bitty waists."
"Does that mean you're NOT going to the Sadie Hawkins dance with Trisha?" I asked, lightheartedly.
"That depends." Ryan said seriously. "I'm hoping for a better offer."
"And who's the better offer?" I interrogated. He shrugged of my question.
"Have you asked anyone?" Ryan lay down on his belly, and stared into my eyes.
I sighed. "You know I don't have the guts. I couldn't face the rejection. No guy would say yes."
Ryan pushed my bangs out of my eyes, as to look into them deeper. I'm almost certain the direction of the wind changed right then as well. The atmosphere changed along with it. Something about the way Ryan was looking at me was making me nervous. But why? I'm never nervous around him. But that gaze held me in a trance; a terrifying one. I couldn't take my eyes off his lovely mouth. We'd been friends forever… and suddenly that didn't seem like enough.
"I'd say yes." Ryan's eyes were hopeful. He wanted me to ask him.
"But we're just buds." I said more to myself than to him.
"Haven't you ever wondered if we could be more?" Ryan asked innocently.
My fear was escalating. We were BFF's. I didn't want that to change. But it was already too late. Clearly Ryan wanted MORE, and I was growing more and more uncomfortably curious about his full pink lips. I examined the strands of wheat, from root to top, then beyond at the vast blue sky. The clouds were darker than before. A sudden change of weather was near. A sudden change in mine and Ryan's relationship was also near. A storm was close, and so was Ryan. I was suddenly aware of his close proximity to my face. His lips were almost on mine, but he did not kiss me. He waited for me to consent. My lips trembled with fear and longing.
"I love you Jenna."
Ryan's whisper tickled my lips. He held my face and I melted at the touch. My mind told me to run; to get far away from this, but my lips took control, and satisfied their craving. His kiss was bittersweet. It thrilled me and filled me with joy, yet with every kiss I felt deeper and deeper loss. Somehow I knew it couldn't last. I mourned the loss of our friendship, and already I mourned the loss of my first love. This kiss was the beginning of the end.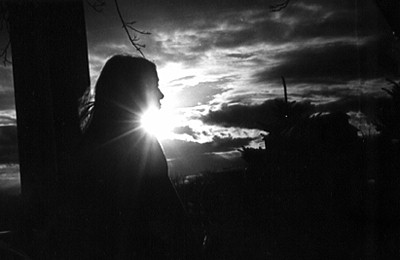 © Elizabeth G., Marblehead, MA