The Change
January 1, 2011
When I looked in the mirror this morning, I saw the same thing that I saw yesterday morning: red blotches of small pimples on my cheeks, dark circles under my eyes, and chapped lips. Yet this morning, instead of brushing it off my shoulder, I felt tears fill my eyes. I decided that after school, I would visit the mall for some make up, and perhaps a new outfit or two.

I had never even wore makeup in my life; I did not even know how to apply it. I was not one of those girls that bought extensions to make her hair perfect or wear tight close to reveal half of my body to the male population at my school. I was also considered quite antisocial, and I was extremely shy.

The school day slid by as usual; the cheerleaders pushed me against lockers, and the jocks made fun of my outfit; the drama club snickered at me and the choir sang a funeral tune as I walked by. This only fueled my want to change.

As soon as the bell rang, I was practically sprinting to the mall. Tomorrow, I would be popular; people would stop, stare and fear me and my beauty.

I first went to the beauty boutique. The saleslady looked at me as if I was some freak of nature, and asked me if I was interested in a newer, better, brighter face. Ignoring the insult behind the smile, I reluctantly agreed.

I left the store with over $200 worth of make up, feeling almost guilty for spending so much to look good. Yet the guilt did not last too long, because two minutes later, I was trying on jeans that made me feel as if the circulation in my legs was being cut off. I also tried on three halter tops that revealed both my stomach and chest, and five tops that were suitable for a Las Vegas strip club at most.

Last was shoes. I tried on several different heels and pumps, with different colors such as purple, red and navy.

Once I arrived home and my parents saw what I had bought, they were disappointed; they hated seeing that I was falling into this materialistic trap.

Regardlessly, the next day, I felt the house wearing a pair of ridiculously tight, ripped, bleached skinny jeans, a white halter top that revealed more than enough, and a pair of red pumps that I nearly fell down the stairs in. The only piece of clothing on my body that I actually liked was a basic black blazer. Along with that, I wore cat eyes, red lip gloss, and foundation.

Upon entering the school, people did stare, and most people's jaws dropped. At fist, this made me ecstatic. But when the same guys that bullied me the day before tried scoring dates with me and could not stop staring at my chest and behind, I nearly felt violated. And when the cheerleaders invited me to sit with them to tell me that I 'fit the standards' of being their friends, i felt disgusted with myself; I had changed in all of the wrong ways for all of the wrong people.

From that day on, I wore my non-flashy, conservative clothes and minimal make up with pride; I would not change who I was to please others.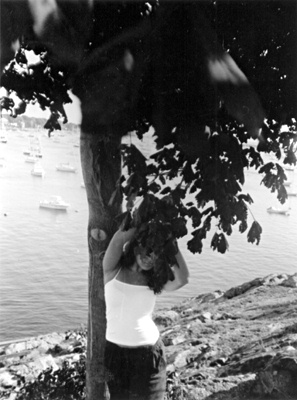 © Lauren M., Marblehead, MA