Home Sickness Strikes
January 2, 2011
She sat up straight in her bed once she heard her alarm ring, revealed to escape the nightmare she was having. Lately, nightmares were coming constantly. She was afraid to fall asleep.

Today, she would be on her way to meet with a therapist. Perhaps a nightmare once in a while was normal, but having them every time she fell asleep was just ridiculous and absurd. Not to mention that they all shared a general theme: her being lonely.

As she was getting dressed, she thought about how since she had moved out of her parents house, her social life had went down the drain; she had not seen her girls in weeks, and her boyfriend of three years had broken up with her, saying that he wanted somebody who had some enthusiasm about life.

This was strange for her; prior to moving out, she would always check out trendy clubs and lounges with her man. And during the day, she would scope new trends from small boutiques, and blog about them while sipping on a latte with a girlfriend. What was happening to her?

Once she was out the door, she noticed how chilly it felt outdoors, even though it was technically hotter than usual. Halfway there, she felt faint, and thought that perhaps she was just really physically sick.

While she was sitting down, a family of six walked by her; a happy set of parents, pushing newborn twins in strollers, with a young daughter talking about school, and her teenage brother laughing.

Suddenly, something clicked in her mind: she missed living at home. She was only 19 years old; this was quite scary for her. She realized that he lack of family made her unhappy, resulting in her sudden antisocial way of living.

Abruptly, she ran to catch a taxi driving by. Once she was settled in the car, she said, "Take me to 5627 Pine Street; it's my parent's home."

She was going home.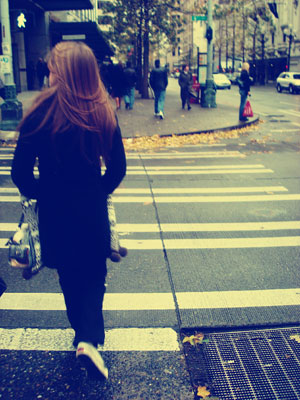 © Adria O., Edgewood, WA