Chance I Didn't Take
January 24, 2011
There was a chance I didn't take. It was when I was young; innocent and full of life, the simple task put before me could have changed my life forever. I would be in a much better predicament then where I stand now. But enough about me whining – let me show you…

The argument happening behind the bedroom door made my skin twitch. My eyes watered and my small fist had a strong hold on the door knob that separated me from my parents. This wasn't the first time I heard my father yell at my mother, while being under the strong hold of alcohol. My mother's cries woke the cat in my bedroom – all the way on the other side of the house.

I was trying to open the door so I could attempt to rescue my mother when her screams stopped. A loud thump was heard and quick foot steps approached the door. The door swung open so fast I fell flat on my bottom. I stared into the eyes of the man, who I sadly called father. He was panting and behind his legs was my mother, staring back with a cold, blank stare on the floor.

"What are you doing? I told you not to spy on us!" His voice was slurred but as venomous as a snake.

I kept staring at my mother.

"She can't protect you no more."

He took a firm hold on my arm and nearly ripped it from my body as I was quickly placed on my feet.

"Dada that hurts me!"

"Shut up, you brat. Go to your room and wait while I clean this mess up."

I turned and fled down the hall. I quickly entered my room and slammed the door behind me. I slid under my blanket that the cat was under on the floor and held her to my face as my tears slid off of her silk fur.

I had a chance to be free. The neighbor across the street was so kind and could protect me from the wrath of my father. She could have saved me from the beatings I would endure night after night.

I had my cat in my arms and my blanket wrapped around me. That is all I needed to take the quick trek across the narrow street. My father was too drunk to catch me and my screams could save anyone from danger.

What kept me back? I was young, so young that the only thing I knew was to trust my mama and papa. But I knew, deep down, that only my mother was to be trusted. But I stayed under the blanket and kept a strong trust toward my father, who I thought loved me too much to hurt me.

My young foolish mind failed me.

There was once a chance I didn't take. If I had, I wouldn't be married to a man like my father. If I had, I would have been able to save myself for a worthy man. If I had, I wouldn't be like my mother, protecting my three-year-old son. If I had, I wouldn't be writing this cry for help in my diary.

If ONLY I had!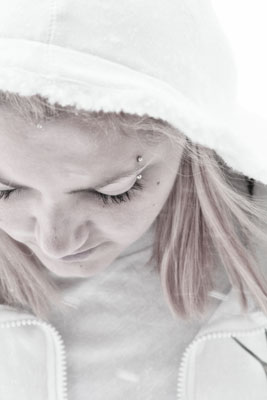 © Jessica F., Bradford, MA