Mandy, Don't!
January 30, 2011
Built with 200,000 tons of steel, each were complete with 110 floors, over 100 elevators and 43,600 windows. They are an impressive, eye-catching, architectural landmark. My name is Nicole Percy and I am an attorney working in the North Tower of the World Trade Center and am well known on the 102nd floor. It is like a second home to me, and I am blessed every day with the opportunity to work with some great people, doing a job I enjoy, and to top it all off, I have a view of the Hudson like no other.

Today, September 11, 2001, began like any other: I wake up at 6 AM sharp, shower, eat breakfast and feed the dog. I am out the door by 6:45, when I stop for coffee and rush to meet my train which leaves at 6:02 on a good day. Today I would be meeting the new intern, Mandy, a notoriously outspoken and rude girl, and the daughter of a potential client, a very, very generous client. A substantial donation to the firm was resting on my shoulders.

I entered the WTC at 6:51. The lobby was bustling with activity and the atmosphere's electric energy greeted me like a welcome mat. I boarded a crowded elevator and drained the remainder of my lukewarm coffee. The pulleys jolted into motion, and the elevator ascended with a groan.

As I stepped off the elevator onto the 102nd floor at 7:03, I said hello to my coworkers and was handed a manila envelope containing my former client's last will and testament.

Forty-five minutes and two cups of coffee later...

"Excuse me, Nicole," said the familiar, monotone voice that belonged to my boss.

"Good morning," I said and saw her for the first time. She looked just like her father, but with brown eyes and more hair. She wore the same bored expression.

"Nicole, this is Mandy. Mandy, this is Nicole. She will be giving you a tour of the place today. I will be in the office across the hall meeting with your father, Mandy. Do not disturb us," said my boss, and he was gone.

"Nice to meet you, Mandy!" I said with too much enthusiasm. I held out my hand. She looked at it, blew an impressive bubble and snapped her gum obnoxiously.

"Hi," she said, and reluctantly shook my hand. Yes, I could definitely see the likeness between her and her father now, always happy to be there.

"Why don't we begin the tour?" I asked, and started for the center of the floor. Mandy chose to walk in the opposite direction, sit down on a sofa, and flip through the latest issue of Cosmopolitan.

"Mandy, don't..." I said in exasperation. "Please give this a chance." She sighed, put down her magazine and followed.

We got through most of the tour without any problems, but I could tell she wasn't paying any attention. This did not bother me. In fact, I admit I would be bored myself if I had been dragged out of bed at six o'clock to be babysat by a lawyer while Daddy was in a meeting! The tour was almost through and we had reached the finale: the view. It stretched for miles! The only way to describe the seemingly endless panorama was simply breathtaking. I turned to Mandy, who had pulled out her cell phone and snapped her gum in that infuriating 'I'm-better-than-you' kind of way. I should have been used to this attitude by now, working in the WTC, but I was not going to tolerate this kind of disrespect from an adolescent.

"Mandy, don't..." I said again, "Put that away now! We are almost finished with the tour, and then you are free to get some breakfast downstairs, there is a wonderful café on the 12th floor." This interested her. "The view is simply spectacular; I think you are going to love it!" She looked at me, debating whether to protest with a bitter remark, or satisfy her curiosity. I could almost see the gears turning in her head. She snapped her gum once more, then snapped her phone shut. She slowly, painstakingly approached the window. I deliberately looked at my watch in annoyance. 8:43 AM. Good. We will break in about fifteen minutes. Gosh, this felt like the longest morning of my --

"What is that?!" I yelled over a deafening roar of unknown origin. All around me, I heard gasps and I heard my question repeated multiple times, barely audible over the sound. Instead of fading away, the noise became louder, louder. My ears rang and I unconsciously covered them with my hands. Mandy screamed and did the same, dropping her phone. We looked at each other in shock, then turned to the windows to locate the source of the blare. The floor shook as papers and pencils and pictures spilled onto the carpet. Then we saw it. A large, commercial airplane, flying full speed towards the building! I screamed and grabbed Mandy's hand, pulling her away from the window as we raced for the stairs and --

Crash. The North Tower of the WTC, had been impacted. The building swayed. I fell. Mandy fell. Time stopped.

Silence. I was deaf.

The windows were gone and were replaced by flames. Smoke and rubble spilled into the 102nd floor. I rocked and swayed and thought I was fainting, but it was the building itself. My heart hammered in my throat which burned with the putrid smell of gasoline and melting metal. I smelled something else, too, something burning, bleeding, something I never wish to smell again. A scream escaped my parched lips, which tasted like ash. I was boiling alive as a wave of pure heat ripped through the 102nd floor.

"Mandy, don't!" I shrieked, but she pulled away from me, somehow escaping my death grip on her tiny wrist. She ran, stumbling over obstacles of rubble, glass and...others. She approached the office where her father was meeting with my boss. She opened her mouth in a scream of anguish I could not hear. I knew what she saw. She ran towards the window, stopped. She turned to look at me, blew a bubble. I swear I could almost hear her snap her gum. She smiled, stepped into the window frame.

"Mandy, don't! Mandy!" I choked. She waved in good-bye, and jumped.

When the floor collapsed below me and I started to fall, I could feel it on my finger, searing through my skin, branding me, reminding me.

When the floor collapsed below me and I let myself fall, the last thing I saw was my engagement ring.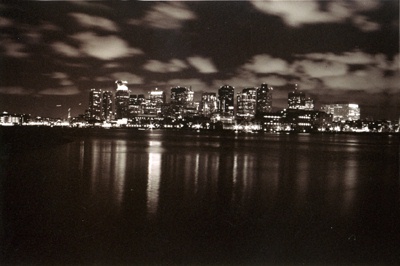 © Hoang P., Rochester, NY