Four Months
March 16, 2011
Jane eagerly stepped out of the front door of her grandparents' house and began down the unpaved road she had walked down so many times before. As she inhaled, she noticed the combination of pleasant scents around her; the smell of the Thanksgiving dinners that were being prepared, the burning firewood that ate through the chilly late November air, and—her favorite scent in the entire world—the beautiful aroma of the sweet and salty Cape Cod air.

It wasn't easy for Jane to appreciate all of these together all at once. As she continued down the bumpy roads of the town that she had known for so many years, she noticed how much had changed in just four short months. Tears rolled down her cheeks as she stared at the unoccupied roads ahead of her; the roads that had once contained happy beachgoers, families, and friends. She scanned over the scenery of dead flowers, dried up swamps, empty beaches, and dull gray skies and struggled to see them as having once been the sources of her happiness. Almost blinded by the tears that occupied her eyes, Jane wondered how such beauty could perish so abruptly since the last time she'd seen it.

As she reached her destination—the beach where she had spent most of her time—Jane had the urge to remove the boots from her feet. Realizing that the cold autumn air had stung against the parts of her bare flesh that were already exposed, she shook the idea from her mind.

It was difficult for her to remember everything from the past four months without driving herself completely insane. She struggled to walk as she choked on her tears, which were now freezing to her face. When she reached a certain part of the beach, Jane lay herself down next to the pile of wood that had been used for bonfires the previous summer. She hated being cold, and after feeling that the "hot summer sand" had turned almost as freezing as snow, she broke even further. After ten minutes, she wiped the running mascara from her cheeks and finally rose to her feet.

Jane stared blankly at the freezing water of the Cape Cod Canal that was about ten yards ahead of her. She walked closer and stopped just before her feet met the shoreline. At that moment, Jane had thoughts that scared her more than she ever believed possible. She went over the process multiple times in her head. Step one, remove sweater. Step two, remove tank top. Step three, remove boots and socks. Step four, remove pants. She began the process of removing her clothes. She would throw herself, her almost completely bare body, into the freezing cold waters of the Canal. She wasn't suicidal. She wasn't crazy. Jane didn't care if she were to live or die.

Before removing the final parts of her clothing, Jane looked down. Suddenly her crying stopped. She fully dressed herself quickly and backed away from the large body of water that would have possibly taken her life instantly… but not just her life.

She took one more look at her favorite beach, and then began to run as fast as she could for fifteen consecutive minutes, without stopping, until she reached the yard of her grandparents' house. There she sat down cross-legged on the grass, gently holding her stomach. So much had changed in four months, but Jane had an important five ahead of her.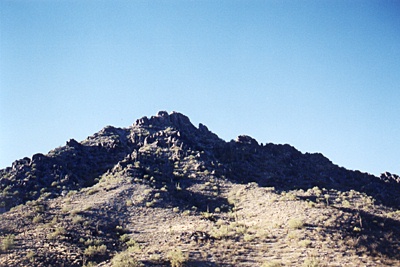 © Andy G., Phoenix, AZ