Role Play
April 15, 2011
Proper vocal inflections, body language, and emotional conviction are crucial for an effective dramatic performance. Bringing these things into balance is a skill to be perfected with time and practise. I've been practising my entire life. I was born with the essentials, and by now I've perfected them beyond perfection. It's easy as pie for me to take on different roles; second nature for me to portray very convincing illusions, using nothing more than my voice and body.
I change personalities like clothing, and choose emotions analytically, depending on which is most useful or convenient at the time. I'm a character quick change artist. I can be whoever I need to be by demand; be it Dorothy or the Wicked Witch, Juliet or even Romeo. Characters' gender cannot stand in my way. I can wear any hat, and slip on any pair of shoes. It's a gift Cinderella's stepsisters would die for.
I captivate people, regardless of what role I play, because I don't simply pretend to be someone else, I BECOME someone else. I become the character and rebuke any spiritual tie I might have to my core; my soul. I cannot allow my 'self' to shine through, on account that my 'self' is not an interesting character. My 'self' has no personality, and feels nothing. She is numb. And because she is numb, it hurts me little to put my 'self' to death, not only on stage but in all aspects of my life. Role play is not just a hobby. It's not my passion either. It's my lifestyle.
I've created my own character for myself, to conceal my true identity in this world. Her name is Sunshine. Sunshine is light-hearted and lovable, bright and enthusiastic, vibrant and outgoing. She's happy and makes others happy. She's a ray of sunshine, blowing sunshine up everyone's backside. Sunshine is everything I Krista Raye, am not. My performance is so convincing, sometimes I even fool myself.
However, even the best actresses must drop character sometime. In the dark of my room, Krista always surfaces, like a nocturnal pest, and I remember I am not sunshine. I don't feel the happiness I've portrayed for people; I feel numb, and in my unfeeling desperation, I rummage through my drawers for his pocket knife; the one he left with me the day we were separated; the last day I felt something.
Sometimes I feel like he left a part of himself with me, in this knife. He was the only person on earth who was capable of making me feel, but he's been absent from my life for years, so the knife has taken his place. The only thing I feel these days is the sting of a blade as it sinks into the flesh of my wrists. I know it's dangerous, and I know I'm teasing death, but perhaps that's what makes it so exhilarating; so addictive. The habit reminds me I'm not dead. Not yet. I bleed just to know I'm alive.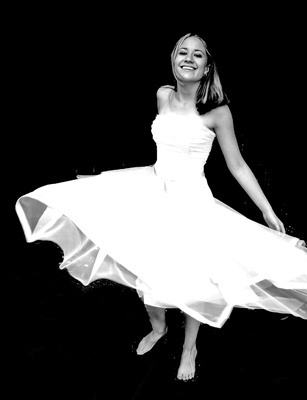 © Kara S., Walnut Creek, CA