The Yellow Star
April 30, 2011
I studied my grandmother's hands. They nervously fingered the yellow star I had placed in her lap. Her fingers, roped with veins, traced the German word. They felt the cloth, worn and musty. They remembered. Remembered what, I wasn't sure. I just knew that yellow star was much more to my grandmother than an accessory.
I had found it in the deep void that was her attic. My grandmother was the cleanest, most organized person I had ever met, yet her attic was a mess. It was a dense jungle of boxes, random nostalgia, cobwebs, dust, and I'm sure it was home to species of bugs unknown to science.
I waited patiently for the story that was sure to come. Finally, my grandmother's mouth opened, and she began to speak in her thick Polish accent.

"I was a popular girl, like you, Rachel."
I blushed. "Go on," I urged. My grandmother held up one finger, and then leaned back in the chair. She closed her eyes, and her face settled into what I had come to recognize as her story telling expression.
"It was 1941. Do not remember what season. But one day my tata, father, came home with this."
She gestured to the star in her lap.
"I did not like it. We were being branded like cattle! But tata said we should be proud to wear it, proud to be a Jew. I was ridiculed in school. Marked like the devil I was the children told me! Children I once called friends! Agh! But I wore it; even though the stares followed me around like flies follow a carcass. Was I proud? No. Why should I have been proud?"
She began to mumble, and I nudged her leg softly. "Babcia?" I used the Polish word my grandmother liked so much.
"Yes. Oh, well I was transferred to another school with all my friends from the synagogue. A Jewish school. Were we going to contaminate our old school? Were we going to contaminate the cinemas, parks, gyms, restaurants?"
"You got kicked out of places?" I exclaimed. I was horrified.
"Don't interrupt, but yes. But I wish that was all. Oh I wish that was all!"
She buried her face in her hands, trembling. I had never seen my grandmother so upset. "Maybe we should stop. You don't have to tell me."
"No!" Her voice was so powerful, I reared back. "No. You need to know." She inhaled, and began again.
"Tata said he was going away. Away? In hiding? Hiding? My brave tata, in hiding? He said they were only going to take the men. He was wrong. They came and took all of us, except my tata, who was gone. But who knows? Maybe they found him and took him too. "
She sighed so deeply that I can only imagine the pain that causes such a sigh.
"Did you learn about the killings in school? The Holocaust?"
I nodded solemnly, fearing what might come next.
"I was in it. The camps. I thought the stars branded us. But this, this was- is worse. Numbers! Not even letters! Numbers!" She rolled up her sleeve revealing a strait row of numbers marching from her wrist up her arm. Staring at the numbers, I realized I had never seen my grandmother wear short sleeves. Not even in the hot summers.
"I was just a girl at the time, so I wasn't gassed. I was stuffed in a building with barbed wire. Crammed in with other women and children. The only food was bug infested blagh. Stinking people, stinking existence." She turned to me, and I saw tears welling up in her eyes.
"There were times I wished I had been gassed. Anything. Anything other than this. Oh Rachel! But I was not much older than you are now!"
I thought about that. What would I have done had I been in my grandmother's place? Would I have lived to tell the tale?
"I was diseased when we were rescued. I thought I was surely going to die. Oh but there were many times when I thought I was going to die." She violently wiped the tears streaming down her face. And then suddenly she sat up straight, her chin up, hands on her lap. The trail of tears on her cheek gleamed, a trail that I am sure had been used many times.
I had always thought my grandmother looked regal. Her nest of white hair seemed the perfect place for a crown. But in that moment, I realized she didn't need a crown. She was a queen, a warrior queen. Her whole face told her story. Her posture, her eyes. They told of an event so terrible, so inhumane. But it was that event that made my grandmother who she is today. All her heart and wisdom and fears had been built over a layer of sadness. Yet here she sat, strong as ever. My respect for her grew so much in that moment I thought my heart would burst.

Her hands reached inside her blouse and pulled out a glimmering gold Star of David.

"And now I wear this thing again, you see? It's the same as this one." She held up the felt star next to her necklace. "But the difference is, I am proud to wear it. It is who I am."

She let the necklace go, and the yellow star glistened on her neck.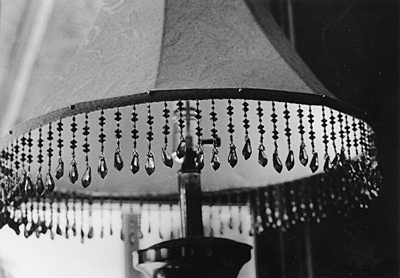 © Ashley T., Westport, MA