Jeremy Has Feelings For Her
May 16, 2011
She was wearing her stone washed jeans shorts, her pink and brown cowboy boots, a black tank top with a fuzzy fake Dalmatian patterned vest, and her curl hung in curls that made everyone jealous. She batted her eyes sweetly at a group of boy, who whistled despite her slightly un-matching outfit, and she waved to her friends standing by the fountain. I watched as she hurried over to them and they all exchanged hugs as if they hadn't seen each other in years. Me, Kendra, and Jeremy were sharing a vanilla and caramel malt at a table in the food court where the fountain was located.

"Do you see what Raven is wearing?" Kendra glanced at me and Jeremy, who continued to suck down his share of malt.

"I see it, she always dresses like that." I glanced back at her where she was standing on her tip toes pointing across the food court at something, or someone. She wasn't afraid to be rude.

Kendra, my cousin, had actually just moved in with my family in our big estate in the country. Her mother and twin brother had come with her. Max, her brother didn't hang out with us, she was thankful for that. She had only seen Raven one other time and I have to say Raven looked almost normal that day.

"She looks ridiculous and I know she has brown hair, but she wasn't blond before, was she?" Kendra popped her straw in her mouth and took a drink.

"She flirts with me, all the time," Jeremy joined the conversation in a bragging mood.

"And you enjoy it?" I asked.

"Well, I just walked away, I was with Daniel, too, and he was taking it all for himself." Jeremy looked like he wanted to say more, but we all glanced up at Raven who was standing at our table.

"Hi Savanna," she gave me a small, obviously fake, smile and then turned to Jeremy, completely ignoring Kendra.

"Hi Jeremy," she dragged his name out, and her smile widened. "I just noticed you sitting over here and came to say 'hi'. Do you wanna come with me and some of my friends, and Drake and Logan, too, to that Italian ice cream shop on the second floor?" She clasped her hands together and batted her giant eyelashes.

"Uhh, I'm ok, I have this, uhhh, malt." He seemed a little nervous to turn Raven down. He stretched his arms above his head and ran a hand through his straight brown hair.

"Pretty please with a cherry on top come with us. I really want you, too." She leaned across the table towards him, but he just shook her head. She stood back up, and marched away, flipping her hair over her shoulders.

"Wow, way to turn down a girl," Kendra grinned at him.

I didn't say anything, and Jeremy glanced at me, a small smile playing on his lips. He was cute, and I could see why Raven wanted him. I have to admit, I had a crush on him myself. Since the beginning of 8th grade when we got lockers right next to each other. Now, it had been almost a year, and my feelings hadn't changed.

"Well, ladies, if you'll excuse me, I have to go to the bathroom," he stood up and walked past the fountain towards the restroom.

"You still have a crush on him?" Kendra asked me after he had disappeared from sight.

I bit my lip and nodded, looking down at the practically empty malt glass. His laughing eyes flashed in my mind and I bit my lip a little harder.

"Uh oh," Kendra said it so quietly I thought I imagined it, like I had him eye. I looked up at her face, which was staring over my shoulder, and I followed her gaze to the escalators leading up to the second floor of the mall, where Raven and her group of friends were leaving. Jeremy was right there beside Raven, his arm around her shoulders. My heart beat sped up and a lump in my throat grew almost to big to breath past. My eyes burned and I refused to blink, afraid tears would fall if I did. I watched till he was gone, and then looked back at the worriedly concerned face of Kendra.

"I don't care," I said as plainly as I could, taking a drink from the malt. I realized I accidentally drank out of the blue straw, Jeremy's straw. I bit my lip, the lump returning, bigger.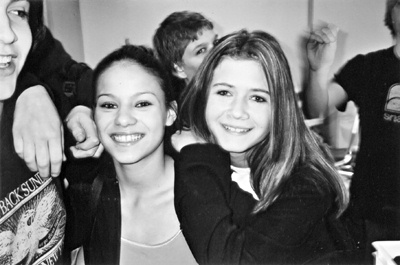 © Gary C., Pequannock, NJ