One Hot Summer
May 13, 2011
"The weather for this week will be hot, hot, hot; temperatures up in the 90s, typical for a Colorado summer." The newscasters voice rang out from my grandmas TV. I sat at the kitchen table reading my favorite book, Because of Winn-Dixie, for the tenth time that summer.

Ringggg. The phone interrupted my thoughts as I read. Ringggg.

I never answered the phone because I was still too young; I was scolded the last time I tried. So I waited as my grandma pulled herself up off the couch and lumbered to answer the wailing device. I watched, no longer interested in my book, as she picked it up.

The conversation seemed to go on forever. Much of it didn't make sense to me because I could only hear one side but there were a lot of mhmms and rights. I watched my grandma's face change from relaxed, to an emotion I'd never seen before. My heart stopped. Even though I was only nine, I could tell that something was wrong. Eventually she hung up the phone and I watched her stand, her hand on her forehead as she thought about what she was just told.

After what seemed like eternity, she looked over at me. I quickly picked up my book in an attempt to mask the fact that I'd been watching her, but she didn't seem to care. She came over and sat across from me, her hand reached out and covered mine.

"Kalyn, honey, your mom is very sick and is in the hospital. We have to go home and see her as soon as possible." The words rang in my head. Hospital, I hated the hospital. My grandma looked into my eyes, searching for a response but I had none. I pulled my hand away and ran.

I raced up the stairs and into my bedroom, searching for anything to distract me. When I heard my grandma's footsteps behind me, I ran to the bathroom and locked the door. There I looked at myself in the mirror, no, not my mom, please not my mom.

I collapsed on the toilet and cried, cried until there was nothing left.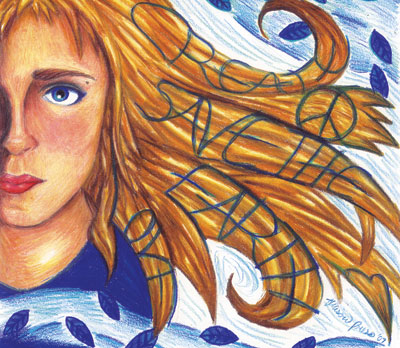 © Allison P., Chapel Hill, NC