Looking
May 29, 2011
There was this guy. And I thought he was perfect, but then I saw his closet. I was in his house because …well that's not important. His closet's really big (which I liked) but full of clothes—women's clothes— and I asked him where these came from and he wouldn't answer. So I got a little suspicious, right? I mean wouldn't you? And I made him tell me. What he said was... well I was so disturbed I just walked out right then. I stepped out onto his porch and he comes out and he grabs my arm. And it hurt. But I like to carry a knife just in case because you never know and it's important to be prepared. Then he was just lying there, and I felt kind of bad, trying to decide whether I should call someone to help him. I'd gotten him in the leg, but it wasn't bleeding that much, so I just left and after I'd walked about a block I looked back and he was still lying there. He was kind of short and dressed in brown, and if you didn't know better you would think a dog was curled up in the yard, asleep. So I waved bye to the little doggy and hailed a taxi home.

I guess you can say the other two were my fault. I might have been dating them at the same time; that's what they said anyway. But I remember calling one of them and saying…well it's fuzzy. But I don't think I was quite clear as to how I felt about either, so when one said they wanted to take me to the movies I didn't have a problem with that. And then the other one called, but I have trouble telling the difference over the phone (they sound very similar); I thought he was the same one. And I asked him for a ride to the theater. So they both end up at the movies and they yell and they scream dramatically. I told them I was going to be late for the movie (I really wanted to see it) and that they could stay and see it or just go home. They both huffed out. As I was leaving I saw them in the coffee shop across the street laughing at something. They looked like they'd known each other for years. So I guess they should be thanking me, right? Because of me, they made a new friend.

I deserve all the blame for the zoo incident.

And then there was that guy who dumped me for a girl in Paris. I don't even want to talk about it. And the other one…well now I remember to make sure my parents aren't home. And that it really hurts if you jump out your window.

I've actually learned a lot from them. I know how to change my clothes without undressing, which movie theaters will let you sneak in drinks, and the foods that will always leave a mess— no matter how hard you try to be neat.

Earlier today me and my friend, Anna, talked about something. She wanted to know something serious. She asked me, why do you see them? That guy and this guy and the other guy. The normal ones and the strange ones and the ones that you just don't understand? Why do you date them? Is it fun?

Fun…? I said. No, usually it's annoying. I don't like any of them enough for it to be fun. And even when I do it doesn't last. Then the fun's gone, and it just hurts.
She asked, Then are you looking for love?

I said, I don't think you can look for it.

But isn't that what you're doing? Looking for it over and over, but since it isn't something you can find, you fail. Over and over until you're frustrated and confused, but you still keep searching. But you won't find it.

It?

Love.

I might, I said weakly.

And she asked, But will it be worth it?

There was a silence. I'd never thought about it before. And I was starting to feel uneasy with this conversation. I have a philosophy against thinking through these subjects too clearly. You can't change them; it just makes you depressed.

So, I said, meaning to distract her, What about your boyfriend.

We broke up, she said. And I felt awkward. So I left the room. After rummaging through her kitchen I brought back a bag of chips and some pop and fruit.

Those are my brother's chips, she said. He'll be mad.

I said to blame it on me.

We took turns throwing red grapes at her dog. The dog's name was Sasha, I think. Sasha started rolling the grapes back so we threw them again. They ended up crushed on the floor. So we used the green ones. Anna started to smile a little.

Really it was the most fun I've had in a while, but I had to leave early. I have a date tonight, and I need to do my hair.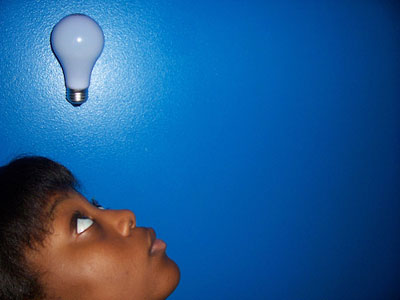 © Jayda S., Jessup, MD