Lost and Found
July 18, 2011
Some people swore that the house was haunted. The two-story home- dilapidated and foreboding to passersby- sat right smack in the middle of Piccadilly Drive. It was like a creation from some lost manuscript of Edgar Allen Poe's: grim shadows danced on the dusty, decaying planks of the old house, and the old thing sagged and creaked with every foot step the apparition inside it took. The malevolent phantom trudged not only down the house's hallways, but also through the minds of every child who lived on Piccadilly Drive. The older kids whispered formidable tales about the house to the younger children as they played in the neighborhood park, causing the swing set to be deserted long before sundown. Boys pedaled their bicycles vehemently when passing the home, and a baseball hit into the yard was lost, no questions asked. But one child, a nine-year-old who was appropriately nicknamed Tater Tot, (it was rumored that he hadn't grown an inch since the age of five) dared to question the neighborhood's routine ways. He either had the courage of a military leader or a head full of hot air: it was the night before Halloween when he accidentally tossed his baseball into the house's yard.

"Aww, what's so scary about an old house anyway?" was all he had to say about it as he leaned over the fence separating him from his lost ball. Tater Tot had been playing a game of catch with his friend, Bennie, who fearfully jerked him away from the fence.

"Haven't you heard about the ghost?" Bennie hissed, glancing back at the house to make sure the spirit had not overheard him. Any kid who thought about sticking even a pinky toe into that yard would be dead meat, Bennie reasoned, and Tater Tot would be an easy target because of his size.

"You keep makin' your jokes, but I grew a quarter inch just last week!" Tater Tot declared, standing as tall as his toes would allow. "Besides, what's that ghost ever done to anyone?" Bennie stammered, rubbed his toe into the ground, and quietly said that he didn't know, but Phoebe from down the street's Labrador went missing last Halloween- and not just because it was looking for a place to die. Tater Tot sighed and glanced up at the sky; the sun was sinking quickly, and if he didn't act fast he would never get his ball back. With Bennie's qualms still singing in his head, Tater Tot scrambled over the fence and landed with a thud into the phantom's backyard. He had not been standing there for three seconds when his friend began to scream at him.

"He hates children, you know! Bet he can kill anyone just by lookin' at 'em. You go if you wanna, but if you don't come back I'm taking your Jackie Robinson baseball card!"

"Fine! But if I do come back, you give me your Babe Ruth!" After receiving a mumbled agreement from Bennie, who figured he was the proud new owner of a 1962 Jackie Robinson, Tater Tot advanced into the front yard where his baseball sat in a wide oak tree's shade. Twenty more steps and the ball would be his again. Tater Tot looked back to his friend for reassurance, but Bennie was not there. The sun had vanished completely, and the oak tree's branches were suddenly arms- outstretched, odious, and just waiting to snatch Tater Tot away. He shivered, but bravely continued towards his baseball. His heart pounded like a drum, keeping time with each step he took. Twenty, nineteen, eighteen, seventeen, sixteen...

Creeeak.

A noise from inside the house brought Tater Tot to a halt. He peered at the cryptic structure, imagining how his parents might react to his untimely death. But he had to keep going; Jackie Robinson was at stake. Five, four three, two...

When the ball was just at his fingertips, the front door's squeaky hinges made Tater Tot yelp with terror. The obscure figure perched in the doorway startled Tater Tot, but after taking in its graying hair and pallid wrinkles, he grinned in relief.

...

Tater Tot would spend the rest of the evening admiring his new Babe Ruth baseball card.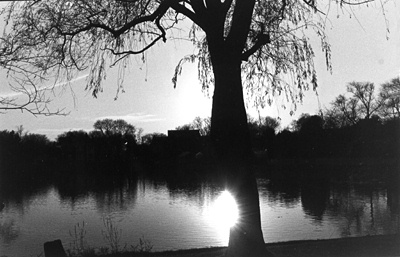 © Chuck K., Marblehead, MA