Crystal Meth
August 15, 2011
I breathed in, staring back at the stranger in front of me. Her eyes, beautifully covered with a silver shadow. Her hair, effortlessly tasseled to perfection. Her nails, carefully filed and manicured. Her shoulders, rolled back in confidence. I exhaled with lousy satisfaction. "Perfect." I whispered as I watched the stranger mouth the word in precise synchronization.

I then take a look at my surroundings. I was closed in by four nasty puke-yellow walls with five tin stalls lined together at the corner. Scribbles of curses and passionate oaths to lovers covered the bricks, the tile, the glass… Signs of adolescence were clearly stated.

A girl rushes in, invading my private thoughts with her intensity. She slams her books down on the tile with what seemed like rage. The action made me jump. She grasped the sink with her hands until her knuckles and fingertips turned white. I could plainly see from where I stood that she was shaking. I don't know why but, I was confused. Not amused, not worried. Confused.

She was breathing heavy. Tears formed underneath her glasses. She shook her head back and forth, I could hardly catch what was printed on her forehead, Crystal-Meth.

The recognition was quick. Her name was Crystal Metheni, but had the notorious nickname of Crystal-Meth. Her hair was short, cut like a boys. Her pants weren't long enough. Her shoes too gaudy. She was picked on, bullied. She was a nobody.

Crystal ripped sheets of brown paper towels from the dispenser with enough anger to break it. She ran the wad underneath the faucet and scrubbed the letters off her head. She looked to be hurting herself, causing a long streak of red from the force she willingly applied. She threw down the wad with a scream of agony. It hit the linoleum with an inferior thud.

She looked up then. Like she had just realized she was not alone. She turned her head to look at me. The act was strong, fierce, hostile. Her eyes, that were the strangest but most beautiful color, were pleading. They were expectant. They were desperate. My stomach wrenched with guilt. I could see she was slowly slipping away, cutting the strings that held her to this world one at a time, one after the other.. Could this be the final string? I felt a new kind of pain. One that squeezes your lungs until you have to gasp for air. One that stings your nose and makes your eyes water almost painfully. I wanted to help her. To speak to her. To be her friend when no one else would. I wanted to wrap my arms around her, pat her back, and tell her to keep holding on. I acted without thought. I took a step closer , I raised my hand with pity and with comfort. Her face was a mixture of hope and confusion. It reflected mine.

But then I stopped. I thought of others and what they would say. I thought of my reputation and the "perfect" girl I barely knew. My hand dropped quickly and suddenly; a dead weight. I tore my eyes away from the girl who looked up to me with anticipation. I fidgeted with my shirt and ran my fingers through my hair. I dabbed at my eyes and straightened my posture. I left and I didn't look back.

I never saw Crystal Metheni again.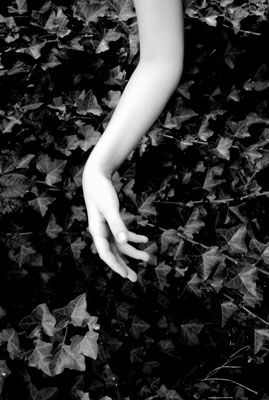 © Sarah M., Blairsville, PA