Invisible.
August 19, 2011
I stroll through the halls, leisurely walking to my next class. I was aware of every person passing me, though they took no notice of me. I smiled at the thought. I could probably do anything I pleased right now. I could perform the most irate things, and it wouldn't matter.
Because I was invisible.
You know those people that as they walk by, everybody - and I mean every single person - turns heads, just to catch a glimpse. You know, the absolutely gorgeous, most popular people. The ones that always have a flock of people surrounding them, wanting numbers, or a date. The ones with way too many people trying to sit at the lunch table.
I was exactly the opposite.
I was the person who people ran into and said, "sorry, didn't see you there," without even bothering to see whose books they knocked to the ground. I was the person who sat in solitary confinement at a lunch table. Nobody noticed me, you see, because I was invisible.
It didn't use to be this way. I used to be real. But then one day everyone turned on me, and soon after that my condition became permanent.
But don't feel sorry for me. Oh no, don't feel the least bit of pity for me. After all, isn't that what high school is all about? Preparing yourself for the real world and all that crap. Plus, who would want to see your mascara run or your make-up ruin because you finally decide to look past the invisibility. That doesn't do at all.
So, you have my permission to continue everything just as it was. And I will continue to cope with the fact that I'm invisible to the world around me. Don't worry about me, I'll be fine.
Ha. Who am I kidding?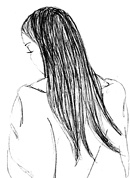 © Miranda B., Neosho, MO