Sugary Nights and Carnival Lights
October 10, 2011
I hear the obnoxious blaring of a car horn from outside. I finish pulling up my hair and peer out the window. The beat-up, nearly broken-down purple Ford van that we christened "The Barney Van" is sitting in the drive way. I'm twelve years old, and I'm finally working in the cotton candy trailer three nights a week. I love the carnival, so this summer has been the best I've ever had.

"Cate, come on! Aunt Lin's here! You know she doesn't like to wait for us!" Mom shouts to me up the stairs. I run down to her, yell a hurried bye-I-love-you to my daddy in the other room and step out into the sweltering humidity. Aunt Linda is waving from the driver's seat.

Mom's already seated in the passenger's seat and listening to my aunt chatter away, so I sit quietly in the back as we pull out. The interior of the car is freezing because Aunt Lin can't stand the heat, but it's something I got used after all summer, so I don't even need to bring my jacket any more. I listen to her rattling off the list of everything we need to do when we get to work. I grin to myself. She does this every day, and never do I remember what she says when we actually get there. She always has to repeat herself. I wonder yet again why she bothers in the first place.

"We've got to get there and put away a bunch of stock today. Earl bought us sugar, Sno-Kone syrup, popcorn butter, and apples to last us the next few days. We've got to mix sugar, make lemonade and iced tea, set up the machines, get the popcorn ready to go, stab apples, and find one of the guys to get some ice for us. Oh, and Catie, you might have to fill our water jugs, I don't think anyone has today." Wow, I think to myself, it's amazing that she can get all that out without taking a breath.

"Sure, anything you need," I tell her. I'm always willing to do anything I'm asked, even if filling about twenty five two gallon jugs with water isn't my favorite job. But after all of that is done, I get to be on the window all night, helping customers, getting them everything they need, and handling the money. Jobs like that sure do make you feel important, especially when you're having as much fun as I do. It doesn't even feel like work. I love talking to all the people and keeping busy.

When we get there, I'm greeted by a dozen workers. Most of them are in their twenties, and they're the ride help. They run all the rides and the games, and they like me especially because I'm give them their drinks on hot nights like this one. I like them all well enough. They're funny and they like to pal around, and they always include me, even though I'm so young. I like that because a lot of the time, I don't feel like I fit in.

I get to work before my mom and aunt are even out of the parking lot. The trailer is about a million degrees, but I know that the faster I get everything done, the faster I can get out until the generator goes on and powers up the air conditioner. I do everything I remember, starting with putting away the sugars and syrups. I can't lift the case of butter or the apples, so I leave that for Aunt Linda. I get started loading the empty water jugs on a hand truck and begin filling them up with the tap on the side of the church we're at this week. I got lucky, only half of them are empty.

"Cate, you sure did all of that fast, saved me a lot of trouble," Aunt Lin told me with a smile as I put away the filled jugs fifteen minutes later. She and my mom have already taken care of almost everything else, and Aunt Lin is stirring the lemonade. I smile in spite of myself. I'm really proud that I can help like I do. I'm strong and fast, so I get a lot done. I go home every night feeling sleepy and satisfied that I worked hard for the twenty dollars I earned. It's one of the best feelings in the world.

"Go sit outside in the shade while I cook the candy apple dip. You know how hot it gets when this cooker goes on. I don't need my best worker passing out," Aunt Linda says to me. I'm more than happy to obey. I sit and watch a bunch of the guys toss around a tennis ball, laughing and carry on. Their names are Matt, Carlos, Baker, and Mike. I like these guys the best because they're like big brothers to me. They always check up on me, making sure I'm okay and that no one is giving me trouble. If I ever have a problem with anyone, they'll fix them up good for me.

Earl, the owner and my boss, walks by. He's got this long gray beard and he's really tan. I always laugh at him because some days we'll find him sunning his feet because they're four shades paler than the rest of him from his sneakers. I yell hi to him and he barely looks at me and waves in his odd but friendly way. That's when I hear Aunt Lin yell for me. I hadn't even noticed all of the people that had arrived. I find myself thinking about how busy it's going to be tonight and smile.

Suddenly, all the rides light up. The Ferris wheel starts turning and the carrousel sings. The sun is setting and the carnival is just starting. I step into the trailer and I can already smell the sugary cotton candy my mom is spinning in the front, and Aunt Lin is setting up the caramel for the apples in the back. Mom throws a big bag of pink and blue cotton candy at me. I grab a stool and start hanging bags and bags of the stuff from cords strung along the ceiling. It sure is perfect tonight; light and airy, fluffy and more colorful than usual. And the smell, even after all the years I've been around this place, still makes me smile. It mixes with the smell of the popcorn that's just started popping. People are lining up and I'm grinning as I start doing what I love. It's going to be a great night.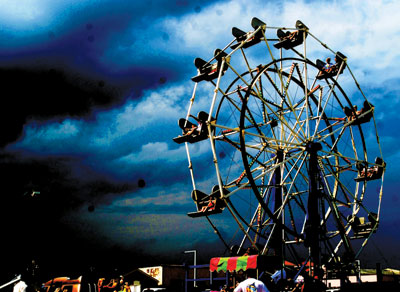 © Louis F., Norfolk, VA