Autumn's Miracle
December 8, 2011
"I found you!" Maddie shrieked with joy as she rounded the huge oak tree, finding her daddy's hiding spot. As she looked around, the whole world revealed itself to her-the freshly fallen leaves dancing by her on the sidewalk, the Del's truck stopped on a nearby corner, a passing green pickup truck. She didn't know it but her dad was cherishing that moment, locking it deep in his heart to keep forever. All she knew was that she was finally home, playing with her daddy after school, where she was the smallest third grader in Miss Fisher's class. It was her first Friday home from the hospital and the following two days lay in front of her like an open book, brimming with possibilities.

Stephen laughed joyously as his daughter ran around the yard yelling "I'm home! I'm home! I'm finally home!" She was his world and his world had almost been irreparably shattered. It had been a bone-chillingly cold winter night that he'd been forced to work late when his ex-wife Laura decided that she wanted to visit with Maddie for the first time in four years. When Laura had moved out, Maddie was only a three year old who didn't know what her mother had done wrong; she only knew that her mommy was suddenly gone. Although by age seven, Maddie realized the damage her mother had done, when Laura showed up at the house on Little Apple Boulevard, she ran into her mother's arms. Laura said, "Come on, Madeline. Let's talk. We'll just go for a short drive and I'll have you back by the time Daddy comes home." And that was the intent, but Laura had spent the afternoon at a bar. As the car carrying her intoxicated self and her innocent seven year old crossed the Pine Street Bridge, the car spun out of control. The snow-covered world became a blur, Maddie screamed, Laura swore loudly, and everything went black.

That had been eight months ago. Laura had walked away unharmed, but Maddie didn't gain consciousness for three months. During Maddie's hospital stay, Laura visited once. Stephen had spent the entire first week at her bedside; although life kept moving, time stood still for him. The morning Maddie came back to him, Stephen had noticed the first small flower of the season poking its head through the chilled ground. The doctors were beginning to give subtle warnings that she may never re-gain consciousness, but at the sight of the flower, Stephen knew she was coming. Maddie loved flowers.

He remembered all of this as Maddie beckoned him over to the swing set so he could push her so high that she was level with the top, like he always had. He was cautious at first even though the doctors had kept Maddie hospitalized for a few extra months to make sure that all her injuries were completely healed and that she was able to do school work without a crushing headache. They knew what an energetic little girl she was from the stories Stephen told them, so they kept her until she'd be able to play whatever she wanted as soon as she walked out the hospital's giant revolving doors. After much begging, he pushed her higher and watched the innocence and pure happiness in her expression until she was ready for dinner. Over dinner, they planned their weekend: Saturday was reserved for apple picking and a hay ride and Sunday for going to church, baking an apple pie, and visiting Grandma.

Later that night, Maddie curled up to her daddy as they watched her favorite movie, A Little Princess, into the wee hours of the morning. He couldn't help but smile and wonder why autumn was the season of decay when he had proof right next to him that it would forever be a season of new life.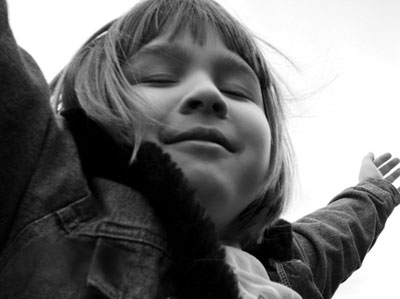 © Morgan C., Fridley, MN