Pink! Pink? Yes, Pink.
December 20, 2011
I'm seven again. I walk into my new homeroom, not knowing anyone. I'm scared; third grade can be awfully lonely. My blue skirt stands out against all the pinks. I hate the color pink. When it's playtime, I sit down by the swings and try my best not to be noticed. My best friend moved away in the summer, and we had always loved to swing. A pretty girl with brown curls and freckles runs by and sees me. I still don't know why she decided to stop, but stop she did. Her companions, a boy with brown hair and an Indian girl with long, straight hair look at her questioningly, but she kindly waves them away. They then run off and continue to play tag. She smiles at me as she comes toward my little hiding place. "Hey, I'm Isabella. Want to play with us?" You hold your hand out to me, and I stare up at it. She's wearing pink, I think. I let you pull me up anyway.

I'm starting my first day of middle school. This school is so huge. My arms are straining to carry my overflowing bag that is full of new binders and locker shelves. As I walk through the doors, my bag rips and its contents proceed to loudly scatter across the floor. My cheeks are flaming, and I bend down to pick them up. Soon, a pair of familiar, pale hands joins me in the clean-up. "Need some help, Lily?" My best friend's blue eyes meet my green ones, and I smile gratefully. Of course you're wearing a pink cardigan, but I don't really mind this time.

Freshman year comes and goes. You buy me pink striped pajamas for Christmas, complete with matching slippers. I adamantly refuse to admit that I actually like them. We both get boyfriends, and both have breakups. School gets tougher, and college is always looming over our heads. Soccer is my life and you have basketball games. However, we still always have time for sleepovers on the weekends where we night swim in your pool and watch movies with your mom. On every sleepover, before we go to sleep, we have long talks as we count the endless dots on your ceiling. We bake oddly misshapen Christmas cookies as we watch it snow, and I go to the beach with you and your family. Our moms treat us like we're sisters – which is the truth, really.

It's hard to believe that we're going to be juniors soon. You call me and invite me over to your house, and we watch movies in your living room, just like we always do. You seem really bothered by something, but I don't press the information. We're covered in soft – yes, pink – blankets and sitting on your couch. Our legs are tangled together and we start talking about different things.
"Lily?" you whisper. I look at you and ask you what's wrong. Your eyes are wet and your voice is choked up, like it does when you're upset. Before I know it, you're crying, telling me everything. I falter for a second, and then we are crying together, your head in my lap. It's never been reversed like this before. Normally, you're always the one helping me. But friendship isn't one way; you showed me that. I notice that we are both wearing our pink braided friendship bracelets. Years ago, the pink would have bothered me. Things are different now, because I don't mind the pink at all anymore. It reminds me of you.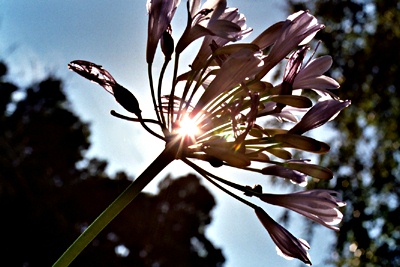 © Brandon W., Redwood City, CA