A Mysterious Void
December 25, 2011
As cliché as it seemed, the vast scenery of clouds were, in fact, everlasting.

It had no end.

The great span of eternal whiteness seemed to flow out parallel to the sky. But as uniform as this presented itself, one conspicuous bus stop stood atop the white platform of clouds. Contrasting with the bleached ground, the black metal held the structure steady. Glass panes sheltered all three walls, and an old, worn, wood bench held stiff and firm, being drilled into the back board of the structure. The canopy of a ceiling stretched far to the right for about six feet. Within and surrounding the booth there stood clutters of people. They all were built differently, each group possessed a distinct aspect that the others seemed to lack.

The bunches were established; there was complete division. The first bunch was that of the wealthy, extremely rich, known more appropriatly as celebrities. Both men and women, they were suited in stainless and ironed tuxedos and glamorous dresses that sparkled with light. They giggled without hesistation and conversed rigorously amongst themselves, eyeing the rest of the crowd with a grin ever so often.

The next bunch was a collection of poor and unlucky beings, otherwise called homeless. They smelled of rotten leftovers and were clothed in aged uncleanly garments. They humbly muttered to each other with extreme caution of their surroundings. Everyone of them seemed to be obsorbed in their own world with a shy sense added on top. With every turn of the celebrities, they too crawled even further into their mental bunker of safety.

Another clutter amongst the rest was a group of school children, some young, some old, all between ages six to twelve. Being in different stages of their lives and having the withdrawn sense of a child, they mostly just stood. No discussion would please the mind of both a six year old and an twleve year old. They wore clothes of the modern trends and styles. The younger ones gazed towards the ground, taking a keen interest at their shoes. The more mature ones found the infinite blue sky an intriguing sight.

Among of these humans, there were a pack of rambunctious dogs of all kinds, from Chihuahuas to Great Danes. They all seemed jovial and please, roaming, jumping, and racing about in circles; they looked as though they enjoyed life beyond comprehension.

A smaller group and more extraverted one was that of two orphans, brother and sister. They wore matching outfits, both with white polos, and one with a plad skirt and the other with tan caky shorts. Obviously a uniform associated with some strict catholic school. They stood there, only ten years old, abandoned by their parents in a car crash.

Behind this crowd, seated on a bench, laid three parents. One mom, one dad, and apart from them, one single mother. The mother and father stuck together, avoiding the talkative bunch of ignorant celebrities, and the grime rally of the poverty stricken. The single mom sat alone, her face reflected a need for sleep. Her head fell at an angle against the metal bar of the adjacent wall, her eyelids sank low enough that it took effort to barely make out the infinite blue sky that soared high, towering over them from above.

But seperated from the crowd was a distinct creature, an animal, a goat. It was poised at an average height with a slumped back; with its ears at odd angles, he would randomly twitch his eye as if a fly were irratating it. His limbs were boney stubs of meat, his head was clean with a protruding snout that reached half a foot beyond his eyes. His yellow teeth were vigoriously chewing a strand of hay. His entire body was lined with a silvery white coat of wirey fur. A very stereotypical farm animal, but his rare lining made his appearence less real and more mythical. As much as his visiual state portrayed his intellegence, his intellectual capacity had surpassed the greatest minds of human history, he surpassed even the greatest discoveries and ideas of this mortal demension. He had the power to spot the wormholes and paradoxes scattered about in the paradigms of reality. But thats another story for another time.



There was no sun illuminating the depths of this endless void; it was lit without a bright sphere, as if the light just existed without a source. During the later hours of the day, there was no sphere that lightened the night with a glowing essense. Those phases of the day didn't occur, it remained light and bright for all hours, there was no cycle between day and night.

With the hours of day and night eliminated from the picture, no seemed to approach the state of sleep. Everyone lived and breathed with their eyes open for eternity.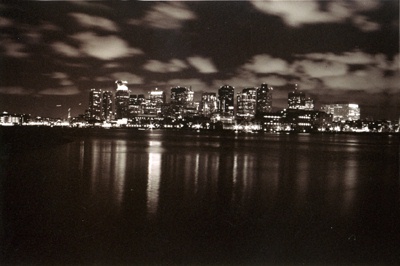 © Hoang P., Rochester, NY