A Town
February 9, 2012
Tick… tick… tick… The silences between the clock's ominous resonances seemed to shudder through every bone in my body. The echoing of the many girl whispers not meant to be heard pounded against my brain like the fake tribal drums from last year's "Peter Pan" play. Only three seconds had passed, yet it felt like I could have toured the world in the time it took for my teacher to look up, heave a deep, dramatic sigh of relief, and hold up his hand; a ritual that came to pass every single class he'd ever taught.

Just as a sound fit for a firehouse blasted through the speakers fraught with scratchy static, Mr. Meester brought his hand down, winked at no one in particular, and then whirled out of his chair, a calm expression framing his un-wrinkled face as he collected the last of our assignments in silence and watched as we filed out the door.

I assembled my books in silence and carefully dropped them into my shoulder bag, observing the looks of remorse on just about every girl's face. They all loved Mr. Meester, and not because he was a good teacher. There were better math teachers by far… Though there were far worse ones as well. No, Mr. Meester was among the few middle aged men who still looked young in a suit, had all of his deep brown hair, and didn't have a pot belly or a uni-brow. He was also more attractive than half the guys in the school.

The thought of ever liking a teacher made me a bit nauseous, really. I just couldn't picture myself daydreaming about a guy who'd started high school before I was born! I shook my head and then realized I was the only one left in the classroom besides Mr. Meester. He raised his eyebrows at me in a "if you leave, I can leave" kinda way, and then smiled, his perfect teeth making me wonder if he'd ever been in a toothpaste commercial.

"Have a good summer, Jaslyn."

"Thanks, Mr. Meester."

Our words were spoken in a portentous sort of tone, because both of us knew that I would not be having a good summer. It came with the stress and anxiousness of having a sick mom and no dad. "You too."

I don't know why I'd added that, since I knew that he wouldn't be having a good summer either. The fact that every single person and their mother knew that he and his cheating wife were getting a divorce should have been enough for me to keep quite, but I couldn't help myself. Maybe if I wished it, I could erase the fact that living in a small town meant that whenever something bad happened in someone's life, it was automatically ten times worse because every person you met around town would apologize for it.

"Thanks… Jazz."

I smirked at being called by my nickname -something teachers weren't allowed to do on account of it "tampering with a student's identity"- and sauntered out the door; the ugly brown lockers and the low fluorescent lights a haze around me as I walked out of the stark white building for the last time as a student, wondering if a girl like me could be more than a wish for something better; a wish for something more than a perfect house with a typical husband and three perfect children. Something more than grocery runs, Pop Tarts, bills, gossiping women's book clubs, picket fences, fighting, hidden truth, nosy neighbors, and mini vans.

I sighed, taking in the sickeningly perfect weather and glancing around at my fellow seniors; the smiles on their faces so rehearsed that they had almost turned to grimaces. I took in a group of small freshman girls, their loud voices and plastered on make-up making it evident that they thought they knew they were gonna get out of that town one day. Well, little did they know that by staying this long they'd already ruined their chances of open speech, college, road trips, and big cities. After staying this long, they wouldn't be going anywhere. No one ever had, and no one ever would.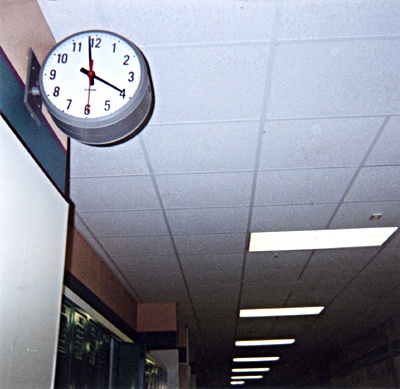 © Blake B., Highland Village, TX