The Yellow Butterfly
February 8, 2012
I look over, and there are tears streaking down the girl's face. I go over to see what's the matter. My cousin is only six or seven, but she definitely looks devastated. "What's wrong?" I ask, in a soothing-as-possible voice.
She wipes the tears out of her eyes and looks over to me. She sniffles, and stutters out, "It flew away. It was sitting on my hand, but now it flew away." She bursts into tears again, and I wrap my arms around her.
"It's okay," I tell her. "What flew away? Maybe we can find another one."
I hand her a tissue and she blows her nose. "It was butterfly, a pretty yellow one," she sobs. "I had held it for a really long time, but then it flew away, and I won't have anything like it ever again!" The little girl is crying even harder now, and I realize I won't be able to find that special yellow butterfly for the girl.
I sigh, and look over the mountains. "I'm going to tell you a special story." I start off telling the tale of the yellow butterfly, and how it flies all around the world, to China, to the Philippines, to other places too. I tell her how I know where her special butterfly is going. It is going to Korea, to look over the flowers there, and little girls just like her. And most importantly, I tell her how this butterfly will be back someday, and that she should keep loving this butterfly, no matter what happens.
She looks up at me, and wipes the final tears off of her face. "I guess you're right," she smiles. "The butterfly will be back another day." We stand up and walk away from the mountain, hand-in-hand, on a new quest: a beautiful flower to smell, a sunset to watch, or possibly just some ice cream to enjoy.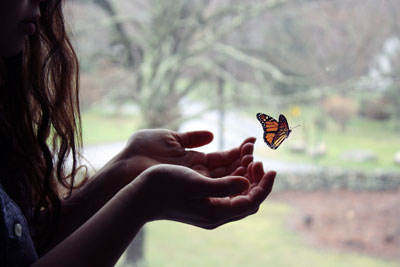 © Sandy H., Woodbridge, CT