I remember
April 2, 2012
I remember walking in the tall building that I had believed to be a church. Maybe. Maybe not. It was still hard to see by how I had to keep pushing up those glasses that still didn't fit.




And I remember being confused. I remember people were crying and stuffing tissues to their faces, and running through the door because they said they couldn't take it. All I knew was these shoes hurt, this dress was itchy, and I was wishing mommy to come home from work.




These glasses were too big, and they were foggy from winter, and I still didn't know how to clean them. Mommy said she would teach me when I got my own.
They were hers. The lady with the smeared red lipstick and the white gown that only made her look ghostlier. She was thin and pale enough to turn to smoke and fly away.




"Eww, gross! Mommy, she's touching that dead lady!" a young boy's eyes were wide and staring at me with utter fear.




"She can't see without her glasses," I had tried to explain, placing the frames across the bridge of her nose to go around her face. She still didn't look right. Why wasn't she waking up? Why wasn't she saying good-bye?




Even as a child I had been awaiting from that moment for the second my father would peer over my shoulder, with his hand on me, and say, "Amber, sweetheart, mommy doesn't need her glasses anymore." But he never did. He came, of course, but he never opposed the innocent gesture.




"She looks just like you," he had said. And I remember wrinkling my tired face from nights of worry that I knew dad wasn't okay.





"I'm not that white," I said. "And she looks different. I don't like it," I remember saying. I wanted to go home and get her tanning lotion and lather it all over the surface of her skin. I wanted to feed her a grilled cheese like the ones she made for me at home all the time. I wanted to tell her that I finished that book she gave me, because mommy was my home school teacher.





"You know, they turned her into a stuffed animal," he said. Benny. Benny was the boy who lived next door, and his mom was the one who tried to save my mom.




"What?" I asked. I remember how deeply this troubled me. As he told me what his mother told him, how they stuffed my mom and sewed her lips, I could no longer see her in the same way. And, at sixteen years of age, I still will never see her in the same way.




I'll see the conveyer belt I pictured her on as a child, as they stuffed her and put her into a giant box to be sold like a teddy bear, taken away from me again.




I remember every Christmas I wished she would come walking down from the top of the steps, with her coal black hair in a bun, and tell me to wait until she got the camera. But I remember she never did.






And I remember she never came home from work.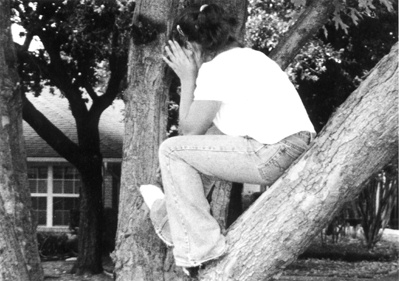 © Allyson S., Highland Village, TX