The Day we Met Again
April 12, 2012
It rained on the day that I first met Jake, or the first time I remember meeting him, anyway. Ever since the car crash last February that had sent me into a coma for three weeks, I've had trouble remembering faces from my past outside of the people I hold closest to me. It was towards the end of one of Mandi's soccer games and I had dropped in for the last five or so minutes of the game because the two of us were going to go to a local restaurant for lunch after the game. It was merely drizzling outside when I first took my seat on the bleachers, and I wasn't expecting to stay long, so it hadn't even crossed my mind to bring an umbrella. But as with everything else in my life, that hadn't gone by as planned.
Within a matter of two minutes after I had taken my seat, the threatening clouds overhead decided to let loose all of the water left in them at one time, causing a complete downpour. I don't remember if I ever liked the rain back before the car accident. I honestly can't recall if it ever bothered me that my hair got frizzy whenever the little water drops collided with it, or if I ever enjoyed the sound of the rain splashing against the ground. But one thing was for sure that whoever I was now was not a fan of it. The dirt under my feet turned into a soupy mess that covered my shoes and coated an inch or two of the bottom of my pant legs. Cold droplets of water pelted me on top of the head, and lightening struck the ground occasionally, threatening to travel closer. But the worst of it was that somehow, the rainstorm reminded me of something, some horrible, terrifying memory that wasn't willing to completely reveal itself to me. And that's what set me on edge the most.
The boy sitting next to me had somehow conjured up an umbrella while I wasn't looking and I felt a sudden pang of jealousy towards him before he leaned towards me and whispered "Care to join me?" he tilted the umbrella and held it over both our heads, shielding us against the cold water droplets. I nodded at his request and he then scooted closer, doing the best he could to cover us both under the black umbrella.
"Thanks," I replied as I brushed a stray lock damp red hair out of my face.
"No problem," he said, "I'm Jake, by the way." There was something about the way he introduced himself, something about the expression on his face that plead with me to make some kind of connection. Something about his expression wanted me to recognize him.
"This isn't the first time we've met, isn't it," I said it more of as a statement than a question, and I saw his face fall just a little.
"Mandi's really good isn't she?" I followed Jake's gaze to where Mandi was standing, high five-ing a couple girls after she had scored her second goal of the game. I smiled slightly at Mandi's success, though I couldn't help being hurt by Jake's sudden change of subject.
"How did I know you before?" I pressed, though Jake seemed reluctant to reply.
"We used to be friends before the car crash," he said nonchalantly, as if it didn't matter, what I don't know if he realized or not is that to me, to both of us, it did. More than Jake knew, it did.
"How good of friends?" I asked eagerly, Jake took his gaze off of the soccer game and looked me up and down, desperately almost, before replying.
"Hope, you really don't remember me?"
The way that Jake looked at me in that moment, the way his eyes fell, the way he seemed to be giving up on hope that I'd remember him, just about killed me. I desperately wracked all my brains, sifted through all my memories; but Jake wasn't there. The face staring at me in the rain was completely unfamiliar.
"I--" I started, almost breaking down when Jake took his eyes off of me "I want to! I want to remember you! I really do Jake, I just--can't right now."
"I should've known," was Jake's only response, and even though he was sitting right next to me, it felt as if he were miles away.
At this remark many people might feel hopeless and hurt, and at first I did, but after a second or two, his sardonic reply only made me mad.
"I didn't choose this, you know!" I retorted, "I didn't want this to happen anymore than anyone else did. I can't control what I do and don't remember from my past anymore than I could've stopped that car from running through that red light!" I could feel the anger boiling inside of me, getting hotter and hotter by the second. "It hasn't been easy piecing back together what I do remember and trying to live off of that! It's not easy getting up every day and not knowing where I came from, or how I somehow got here to be Hope Emerson, whoever she is, today."
Jake stared at me for a minute, clearly taken aback at my reply, there were several moments of silence before either of us spoke again. "I didn't know," he said softly, looking down at the mud pooling around his tennis shoes.
"No, you didn't," I said tersely, "you still don't. And I guess all we can do is hope it stays that way."
"They're not gone, you know." Jake replied, returning his gaze to the soccer game. At this I looked at him quite questioningly before he elaborated. "Your memories. They're not gone. I bet all you'd need is a reminder or something, something to trigger them out of hiding into coming back."
I blinked and stared at him, but didn't reply at first. Was that all I needed? What if an obvious enough reminder could bring my memories back? But then I shook my head slightly, it was a preposterous idea.
"I've been given hundreds of reminders to my past, and not one of them has triggered a memory. Believe me, they're gone." I replied.
Jake's face fell, he took his eyes off of my face and locked them into staring at his lap. He didn't look up as he replied "I see," his voice was small, as if he were a child being scolded.
"But that doesn't mean we can't make new memories," I reasoned. I waited for a second before Jake raised his gaze and his chocolate colored eyes looked into mine once more, and there seemed to be a small glisten in his eyes, a tiny light that had come back to light up his face. It was hope.
"How do you mean?" he said cautiously, but curiously at the same time.
"We start out fresh," I replied as I held out my hand and he took it as I introduced myself "Hi my name is Hope Emerson, I don't believe we've met before."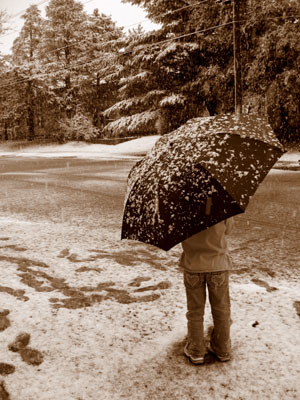 © Hui Y., Potsdam, NY