The Student
May 10, 2012
Her mind fought from slipping into the foggy abyss we know as sleep. With heavy eyes and an even heavier heart she felt like she had the world on her shoulders. Surrounding her with words and thoughts, the papers swarmed about as if they where a tornado of scholarship, of dreams, of future opportunity. While ejecting more pencil lead she pulled the blanket closer wondering what was more important; a restful night or an A.

How many students have come before us? How many have scratched their heads in the wee hours of the night, paced back and forth practicing a speech,rubbed an eraser over the same piece of paper no matter how many times they get the problem wrong? How many pots of coffee have been brewed long before seven a.m.,how many yawns have occurred with a writing utensil in hand, how many important key essential pieces to a project have been thrown across the room in frustration?

She pondered these question as she but the period on her final sentence. With an exhausted smile on her face and knowledge that would probably disappear by the morning in her mind, she slipped into that foggy abyss we know as sleep.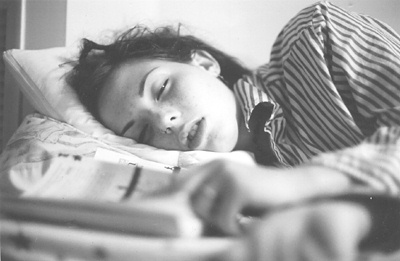 © Rosie A., Lexington, MA