Just Another Boring Day
June 14, 2012
"Just another day to get through." I wrote it in Sharpie on a piece of notebook paper and stuck it on my door with some gray duct tape. Scratch that. Gray for boring. "Just another boring day to get through." I rewrote it like that on a fresh piece of paper. More gray duct tape.
My new room in my new house in my new life is complete, well, it should be. But for some odd reason it feels vacant-
The images fly through my head.
Sitting on the school steps in kindergarten. She was the only girl who talked to me. There's that time we were eating ice cream in fifth grade. We were in matching one-pieces with towels wrapped around our waists. We had stopped at I SCREAM's on our way back from the Y. Then the recent memories come flooding back. She slapped me. She hit me. She beat me. She was angry. Hurt. And she acted as if I weren't too.
I find myself with a Sharpie on my arm, outlining the haunting, fading bruises, sleeves pulled back.
Perfect. Think perfect. Deep breath. No dark allies. No one can gang up on me anymore. She can't bother me. Just pull your sleeves down, girl, and cover it up with make up. Your psycho twin sister is gone for good. Her body is rotting in the ground. At, least, that's what I tell myself.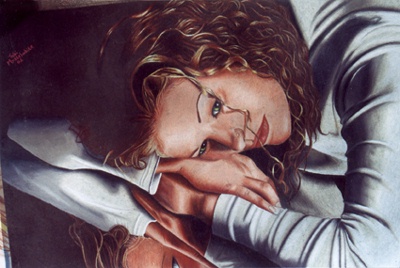 © Tabitha M., Kannapolis, NC