THE PUPPET
June 20, 2012
Its five o clock in the morning and the sun is passing lightly through the window and the gray sky in a warm amber glow. I was too weary to get up out of bed. I didn't want to face the music, didn't have the strength to face the days.
After all he was still here.

And he was still waiting for me. I did not want to get out of bed.

I knew he was waiting for me in the living room, waiting for me to make a show.

A puppet show and guess who was the puppet?

I let fall stone heavy legs that slammed against the floor hitting my ankles and heals.

I dragged myself up wobbly, jumping from foot to foot avoiding the ice cold linoleum floor.I sat back on the bed.

I did not want to be a puppet.

I slipped on warm furry Bart Simpson slippers inching towards the door and peered out.

Looking for him.

He wasn't there. I hope.

The house was hushed at first and otherwise vacant with the exception of my him my mother and me.
Someone shrieked my mother.

The sound of a belt slapping on bare skin was familiar and echoed through the house hold.

I ran to the master bed room which was right beside my own. i scurried to open the locked door with a penny, sticking the coin in the slot and turning it.
The door swung open silently and I began to scavenge through his drawers. I put a hand on the bottom of the drawer.

My footsteps were hushed from the fluff of the slippers as I ran out with a beautiful black pistol.
The scissors to cut my puppet strings.

I dashed towards the living room and looked dead at him beating my mother senseless with a belt and his fists.

I dont want to be a puppet. I thought weakly.

"Father!" i screamed at him.

I pulled the trigger.

I will not be a puppet.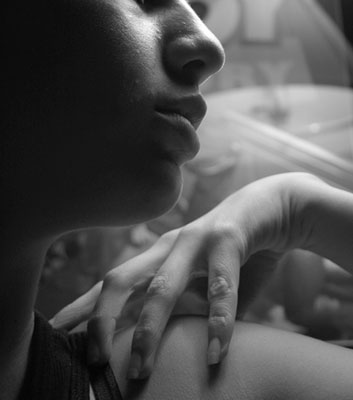 © Rebecca B., Santa Clara, CA