Sand Castles
June 22, 2012
I remember that day so clearly. Kara had built the most intricate sand castle my ten year old eyes had ever seen. She even made little windows and indentations for all the bricks.
"Jeanie, look!" Kara had said. She pointed at her masterpiece. It took four hours for completion. Kara carefully moved around it. Then she looked me straight in the eyes, a warning in her voice, and said, "I'm going to get a camera, don't move!"
"Mom! Mom!" I heard her yell as she ran into her house. I peered around the little sand building, noticing the tiny gargoyles and the loose clumps of sand crumbling off one side. Don't touch it, I thought and then I turned to look at my pile of wet sand, formerly a lesser castle. I must have knocked it over with my feet. I stood staring at Kara's creation for what felt like an eternity in the heat. Then I felt a breeze rolling by carrying the coconut mango smell of my sunscreen along with it. I worried that maybe the wind would get stronger and it would destroy Kara's castle. She would think it was me and then I would be friendless. Well, except for Ashley and Lucas. But they weren't as fun as Kara.
"Jeanie! I got a camera!" Kara sprinted to the sand, slowing down dramatically as she approached her castle. She cautiously lowered herself and I backed up, watching her and the castle intently. I could still see the flash of her disposable camera even in the broad daylight.
"YES!" Kara yelled. She jumped for joy and I felt a sense of relief when I saw that her creation hadn't buckled, even as her feet hit the sand. I decided that this was her "okay" for me to move around freely. I stood up and reached out to give her a high five. Just as I was about to make contact, the inevitable happened. My stomach fell to my ankles and the cold and grainy feel of destruction came over me. I felt the most inadequate I had felt ever. I felt a clump of sand fall down onto my foot. It taunted me. It said 'look what you did, you loser'. I had knocked over one of her towers. It fell and the evidence laid there on my foot, right in front of Kara. I was afraid to look up. This was it. It was all over. My life's worst moments flashed before my eyes all in a matter of seconds. I had lost a friend because I was just so clumsy. I had destroyed the Sistine Chapel of sand castles. Kara must have really hated me now. I began preparing my mental speech, defending my horrible coordination genes, but my mind wasn't functioning as it normally did. Oh no, I thought.
As I gazed upon the ruins, I grew surprised to see more sand come tumbling down at my feet. She had kicked at her own work. Kara's tantrum was starting. I poised myself to run, right passed Kara and into her house. I could make her mom to call mine so I could go straight home. Tears stung my eyes as I looked up, but I was left appalled at the lack of intensity in Kara's face.
"Oh, Jeanie," She said as she came over to hug me. "It's okay. I got a picture. I'm not mad at you, you freak."
She didn't move for a second and I felt shocked and happy and relieved at the same time. Her arms began to choke me as she lifted me off the ground and flung me from side to side.
"You worry way too much. Come on, let's DESTROY IT COMPLETELY!" She growled, like a wild hooligan. Kara always liked to feel destructive and spontaneous, especially when going into the fifth grade. It made her more punk-rock, and that meant she was cool like all the big kids at the high school six blocks away. She could proudly march into Mrs. Connor's class on the first day and tell everyone about all the crazy things she did over the summer, like tear down a small building. Her sand building that she worked so hard on. I looked at Kara to make sure she wasn't just bluffing over her own tears. But she was dead serious, I noticed, as I saw her excitedly punching at the ground.
"Help me clear up the area, Jeanie." She said happily. I nodded and sat down to slowly squish the sand between my fingers.
"I'm sorry..." I said to her, just to make sure. She glanced up at me and proceeded to crawl to the grassy area. I smoothed out the sand as I wondered what was really going on. It was a moment of anticipation. I learned that day that people could be really unpredictable.
"Take that!" She yelled as I felt a cool brush of grass hit my face.
"Sweet, sweet revenge…ha!" She triumphed in her rebel voice. She was probably upset at me too, like I was, but she had a good way of hiding it.
And when I ran away from her to hide behind a tree and secretly load up on ammo, was when I knew that Kara Jo Meyers was my best friend in the whole world. Nothing could tear us apart. Not even a broken castle.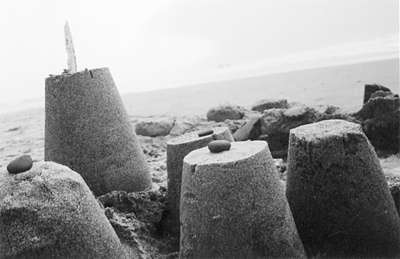 © Lydia D., Seattle, WA