To Love Forever
July 23, 2012
Immediately after she leaves the safety of the hallway, all eyes turn her way.
It's the dress, the way it glides behind her and makes her look as if she's walking on water. It's the way she leans on her father for support, his arm entwined with hers to assist her down the walkway. But most of what they're watching is her expression.

Her knees shake, and a panicked feeling that maybe the Earth has started spinning on its axis a little bit faster grabs at her throat. Her heart vibrates in her chest, thudding so loud the entire room can probably hear its distinct boom, boom, boom.
She stops for a second, takes a moment to collect herself, and continues, taking one anxious step after another.

She's never dealt well with stress, but she was able to keep her composure, with her mouth a straight line and her eyes dead to the world.

She stumbles towards the altar, heading towards where her pastor and fiancé are, waiting. The intoxicating scent of lilacs strangles her; those had always been his favorite, so of course that's what was chosen to decorate the ornate room. She herself carries some in her right hand, her fingers grasped so tightly on the stems that the flowers seem to wilt instantly.

Just when she thinks she can't do it, she feels the weight of the engagement ring on her finger. Custom made. Precious diamonds lay imbedded on the thin, gold band, and, on the inside, imprinted in delicate cursive, are the words "I'll love you forever". Thoughts collect. Her heart slows. She can do it, she knows she can. She remembers their first date, when he tried to take her to her favorite Mexican restaurant only to be stopped by a nail in the tire. She remembers the first time she met his family, and how they had taken a liking to her instantaneously.

They are perfect for one another.

It's right then that she decides she'll never take that ring off her finger. He would always be with her, no matter what.

Collecting what bits of courage she has left, she finally reaches the altar and turns towards her fiancé.

It's there that she lays the flowers on his casket, and then joins her would-be in-laws in the congregation.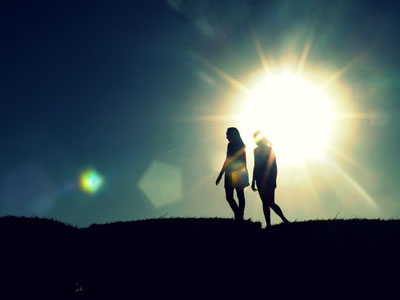 © Alexzandria R., Salem, OR