All of Us (Part 1)
August 14, 2012
Michaela Lang awoke with a start. She looked around and saw all her friends staring at her. "What happened?" she croaked. Her best friend Tyler Flowers let out a whoop and held out her hand to Terrylee Brewer, Michae's best friend from drama camp, who rolled her eyes and placed a ten dollar bill in the other girl's hand. Michae raised an eyebrow.
"Tyler bet that you would say, 'What happened?' and I bet that you would say, 'Where the Fiji am I?'" Terrylee explained with a dirty look in Tyler's direction.
"Now that you mention that, where the Fiji am I?" Michae asked. Terrylee snatched her money back and exchanged glares with Tyler.
"Hey, Terrylee? Do me a favor," said Cayden, Tyler's brother. Terrylee's face softened and she turned to him.

"You know I will, Cayden," she told him lovingly. He smirked and held out a hand.

"Let me have ten bucks." Michae rolled her eyes as Terrylee immediately handed it over and 'accidentally' let their fingertips brush.

"Now that we're all debt free, would someone please tell me what's going on?" Michae asked/ordered firmly.


"Sure, Michae. I will," said a deep voice unexpectedly. Michae's heart jumped in her mouth and she nearly choked.


"Reece?" she breathed. Reece Harris nodded his blond head and pushed his glasses back up his nose bridge- a gesture that any ordinary person would have found nerdy. However, Michae was not an ordinary person and she found it extremely attractive.


"Well, Cayden, Terrylee, and I all went to the movies together to see a really stupid movie-"He was cut off by a squeal of protest from Terrylee, who had picked out the movie. Cayden sighed and put a hand over her mouth. She immediately shut up and Reece continued. "Alright, so we got there and we didn't have enough money for tickets to anything. Terrylee called you and asked you to come and join us. Of course, she just 'happened' to mention that I was there, and that sped up the process a little to much…..you kind of banged your head in to a tree in your rush to get here and you got knocked out." He smiled narcissistically. "You were apparently to busy thinking about me to watch where you were going." Terrylee scoffed and muttered something about egotistical nerds through Cayden's hand. Tyler raised her eyebrows at her brother's hand and he took it away quickly to reveal a smiling Terrylee. She quickly wiped off her grin, but there was still a hint of a smile around the corner of her lips.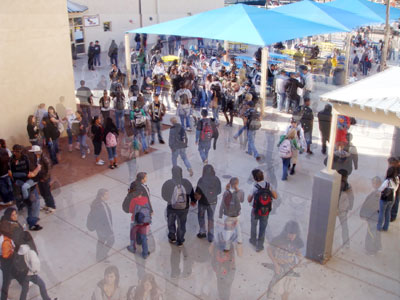 © Sergio S., Buckeye, AZ