Grammatically Superior
September 3, 2012
I don't know how much longer I can stand here and hold this conversation. You are seriously making me sick. Please, someone do me a favour and gag me with a spoon. End my misery now!

"I seen her yesterday." You say. "She's still mad and stuff. Says I'm cheating. But I didn't do nothing."

I feel your pain, buddy, but more than anything, I feel annoyed. I know you're upset, but would it kill you or even inconvenience you to use proper grammar? You saw her. Okay? And you didn't do anything. However, that may or may not be true. I saw you with that girl of questionable character. She could sweet talk you into almost anything. ANYTHING. You sound so uneducated right now; I can't even feel sorry for you. Not a single self-respecting girl would ever want to date you. Double negatives and double-timing are entirely unromantic.

What's that? She ain't got no reason to be mad? Oh brother! You did not just go there! The proper phrase is: she has no reason to be mad. Has it occurred to you that maybe she has no reason to keep you around, and has every reason to dump you like yesterday's trash? For starters, your poor choice of grammar and underwhelming choice of words is insufferable. For all I know, your shameful level of literacy is a reflection of your barbaric, unsophisticated tendencies. Let me spell this out slowly for your indolent brain: improve your English, and maybe, just maybe, you'll win the girl. For your information; no one wants to date a moronic simpleton. Also, you have an academic English student (me) to reckon with.

Good heavens, what are you listening to? 'I'm learning to fly. But I ain't got wings'. Even you're music is grammatically incorrect. The artist could simply change the line to: But I don't have wings. It wouldn't be hard too do. It's the same amount of syllables. Just one minor alteration to the lyrics would improve the entire song. Just one grammatical change and I might actually enjoy it.

"Imma look for her. If you see her first, lemme know."

Okay. That's the last straw. Imma? Lemme? What you mean to say is, "I'm going to look for her. If you see her first, let me know." Do you know what? I'm going to look for her too. She'll trust me enough to let me know what's on her mind because I've always been truthful with my words. If she asks me if I have seen you, I'll tell her I most definitely saw your retched face moments ago. I will convince her she has no reason to cry over you because you didn't do (or say) anything right. I'll use persuasive yet compassionate language to make my case against you and I won't even need to swear to emphasize my point; that she can to much better than a vulgar, inconsiderate fool like yourself. I will sound so wise and true in comparison to you; she won't buy a single lie that comes from your illiterate mouth! My choice of words will win me her heart and irrefutable trust, because I am consistently loyal, eloquent, and grammatically superior.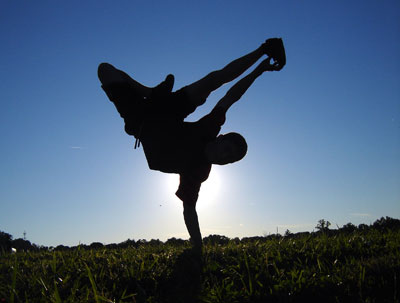 © Seita O., Louisville, KY