Neighbors
November 20, 2012
The little girl rushes through the dense woods. She sees the red ribbon she had tied on a low branch to show her the way to her secret garden. It is her imaginary border, her property, when it really isn't. Her conscious keeps bugging her and she does not know why.


The sun is so bright. She is in her pale pink church dress, feeling like a princess in her kingdom. She sits down on her throne, a mossy log. She feels the lines of the bark. Like veins, it's like a living thing, she thinks. The little girl plucks the silky grass and presses them to her cheeks.

The girl hears yelling and looks around. A red-bricked house is just behind the tree line. She tries to creep over to the noises, but a twig snaps loudly under her muddy black church shoes, the ones she wasn't supposed to be wearing.

The yelling stops and the girl held her breath, thinking she must have been heard. Then it starts again, and she reaches the trees. Two voices are screaming at each other. An older man, probably her dad, and another girl, probably a little older than her, are in their front yard. Not something she had not ever seen before, because not every family is perfect. Finally, after a scathing remark from the angry girl, the man slaps her across the face. The girl looks shocked, and then tears begin to pour down her face. The man looks shocked too, like he didn't expect himself to do that. Then he turns away from her and goes into the house.
The older girl runs into the forest on the other side of her house, in the opposite direction. Maybe she's going to her secret garden, the little girl thought. Then she turned and ran through the forest to her house on the other side of the real world.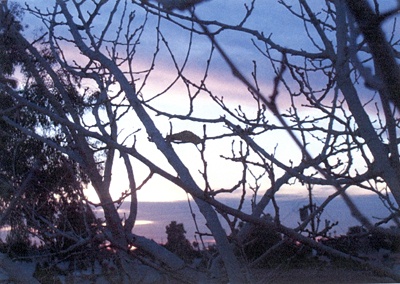 © Delia R.,Phoenix, AZ