Who Is She?
January 10, 2013
Who am I?

I am FREAK.

I am TRASH.

My classmates hate me. I was pushed away from the rest of high school society the minute I started ninth grade. I don't know why it happened so suddenly. They won't tell me. I used to be tolerated and ignored in my younger years. I guess they finally noticed me. Those insults are not my name. And they all know it.

I am CREEP.

I am SCUM.

Every insult thrown my way hurts like a needle piercing through my heart, but I don't care. Why? Because it's the only way people notice me. If it weren't for the verbal and physical torture, I would be left to disintegrate into thin air, become non-existent in my entire neighborhood. The only way people know me is by the fact that they know who they're not supposed to be seen with. And that's me.

I am UGLY.

I am DITZ.

They shove me in the halls, try to pull my shirt down, twist my ears until I can feel blood, but I can't do anything about it. Teachers try to intervene through all the agony I am put in, but it is no use. This is my life. This is my only story.

I am OUTCAST.

I am IDIOT.

These names feel like a second home to me. They are my only solid home. My first was broken by my parents. They started fighting when I was seven. They can't even sleep on the same side of the house now or even look at each other, ten years later. They use me as their rope in their tug-of-war arguments. They both have applied for a divorce. While they worry about themselves, I can find no peace in my life. Stony silence at the dinner table takes me to school. Harsh insults give me a ride back.

I am MORON.

I am IMBECILE.

My life is in pieces. The shards are irreparable. My reputation is unredeemable. But my place is easily replaceable. It would be too easy for them to find another target. Another person to rein misery on. But I can no longer keep living like this. If I can only gain recognition in this world by being people's punch bag then I'd rather not live in it. I'd much rather find another world to be a part of. Maybe one that won't give me as much depression. So now I've decided that I want out of this mortal life. Don't expect me to say goodbye.

I am HELPLESS.

I am ALONE.

I am . . .

Layne Frohman. That actually is my name. And you won't find me unless you're able to see the dead.

Please make sure to untighten the belt that's on my neck and put it back in my dad's closet. It's his favorite. But you can throw away my soulless body. That's no one's favorite.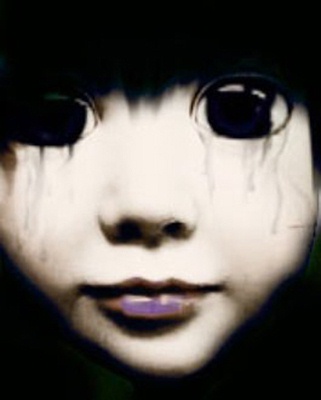 © Stephanie C., Gaithersburg, MD