Killer Attitude
March 30, 2013
The earphones buzzed and popped as they were plugged into the desktops hard drive. The middle-aged woman tip-tapped away at the keyboard, thumping the stiff space-bar between every word. Her typing rapidly increased as the callers panic heightened. The line died! "Hello, hello are you there?" she quickly said, knowing the urgency of the situation. There was a brief shushing in the background, then the caller came back; he continued to give details on the casualty and their location. "ok, an ambulance will be there in the next ten minutes..." before the woman could continue the man on the other end beamed out "oh thank you! Please hurry". The caller hung up, leaving the woman alone with her computer, before she had the chance to continue.

With his dad drinking himself to death and his mum away on business, Jamie decided to stay with his grandparents. Being seventeen years old and full of life he did not particularly enjoy it there, but it was a different environment for him, and it meant he could go with his mates without any hassle from the drunk.
It was the school holidays and everyone was out; boobs and booze was the usual combination for the lads nights out, or at least that's what they wished for. Realistically they would hang around a park, sitting on their BMX's, leaning over the handlebars, and roaming around town in their 'gang'. Occasionally the eldest would bring a few cheap beers and they would enjoy those for the most of twenty minutes, if they were lucky. If they were really lucky a few of them might have even been able to pull a few birds. They would get a phone number at best, but that was better than the usual slap in the face for being too 'upfront'. The lads would laugh about it, but boredom was easily found and conversations were often on a low; but anything was better than revision, that was for sure.

It was about half past nine at night and the woman answered the phone once more, noting down the address and severity of the incident. She quickly sent the co-ordinates to an already mobile ambulance. She hastily tried to calm down the man on the other end of the phone. After a few seconds of sobs he scarcely attempted to reply with muttering whimpers of "I'm sorry... my wife..."
"I know, just try to relax and take a few deep breaths." she waited to hear him snivel and take a deep breath in, just before blowing the entirety of his lungs out onto the phone. "Good" she continued "now, I'm going to have to ask you to perform CPR" she heard a quick gasp and quickly added "don't worry, I'm going to talk you through it."
"Thank you" he said considerately as the phone beeped and he activated the speaker phone option.

Jamie was laughing as loud as he could, remembering the hilarious joke. Half of the gang had already disbanded, heading off home, and the remaining two walked with him on their way home. They had calmed down to a chuckle by the time they had reached his road; the other two rode on their bikes disappearing down the street to their own houses.
Jamie's eyes refocused as he disbelieved it, he was right though, an ambulance was parked in the middle of the road. He joined the crowd of the neighbours that had gathered to witness the incident. The surrounding houses were illuminated with the silent flashing lights of the ambulance as it stood, parked, ready for the imminent escape from these packed streets on its hurried way to the hospital.
He could not see over the crowd, not even on tip-toes or when he jumped inconspicuously. He turned to the woman next to him, he nudged her arm and nodded towards the ambulance asking "what happened here then?"
"An ambulance was called. Nobody knows why, but we haven't seen anything since they got here." she spoke with uncertainty and even more confused face. Jamie shrugged and pondered as to what had happened. The end result had been soon realised, as at that moment a black van trotted down on the other side of the road opening and out stepped two hearse drivers.

The rows of family stood in mourning as two coffins were carried through the centre of the church, and placed before the altar where the same couple had once wed. Friends withheld their tears, family sobbed, and the priest respectfully waivered the dead on to the Eden above.
The ceremony stepped outside and the couple were buried with haste, in order to prepare for the next service.
After the soil had filled the grave the black sea of whimpering kin disbanded, dissolving among the graveyard to their surround vehicles.
A small group had formed on the gravel car park. Jamie stood silently leaning against the car with his hands in his pocket, waiting for his parents. The temptation to play on his phone was tremendous; but grief consumed his thoughts, and guilt filled his heart at the thought of even enjoying a silly little game at a funeral. To distract himself from his own thoughts he listened in to the conversation.
"That was just like Dad" Jamie's mum said fondly, between a snivel "he loved her until it killed him."
Some aged distant relative then dabbed her eyes, replying "with the adrenaline, he did not realise what he was doing to himself. He just didn't feel it killing him."
His mum nodded sympathetically, as they acknowledged the fact that he did not suffer. Jamie's dad simply nodded and, on the rare occasion, he proved he had actually evolved out of a primate, and grunted.
A man and woman stepped forwards announcing themselves as the paramedics. "We are sorry for your loss" the woman said, shaking their hands simultaneously. "We do not normally attend patients funerals" started her colleague, but under the tension she finished his sentence "but we thought we had ought to pay our respects. After all, we have never experienced anyone like that, in all our years." The burning tears filled the eyes of the beholders once more, scorching their eyes, but she still continued. "Nobody would give their life in an attempt to save anyone, not even a loved one. It was unfortunate; the world needs more people like him." she finished the sentence with a tensed stomach, the lump in her throat made it hard to speak without wincing.
After regaining her composure Jamie's mother quietly said "At least they went together, it would have been what he wanted; and thank you, for everything."
"We just wish we could have gotten there sooner. We were called out to a casualty on the other end of town, and we couldn't make it back in time because of the evening traffic and distance."
"Don't feel bad" Jamie's mother reassured him "you were just doing your job" she smiled speaking down to him, as if he was a child.
"It wasn't like that..." the female paramedic interrupted, but quickly paused, holding back what she wanted to say; it was too late, she continued "there was no casualty! It was a hoax, a prank, we were called for nothing. We ended up wasting a lot of time searching for someone who didn't exist."
The shock of facts hit the group more than a shotgun would have, their mouths were half dropped and some clenched their fists in anger.
"Peer pressure!" beamed the distant relative "that's what it is. Boys these days doing stupid things just to impress their mates!"
Jamie's body froze, with a knife digging into his ice cold body, hoping someone would twist it, so he may shatter.
"Good thing your boy isn't like that. He is too mature and sensible, unlike the scum that caused this" she spat it out with spite and rage, while pointing to the grave where the couple were buried.

Jamie suddenly felt life return to his body. He felt around in his pockets for his vibrating phone. He opened up the text, reading:

Hey man, that was epic the other week, gotta do it again at some point bruv. It was jokes ennit, getcha to do some ringing again boy, send the blues running, you get me haha.

A tear ran down Jamie's cheek. He shook his head and muttered aggressively "no, not ever! Not again." he wiped his tears quickly "I can't kill anyone else! I won't do it." He looked back at the text with disgust. It was a vile message disguised by humour, one that mocked his suffering. How could he have been so stupid? Jamie finally saw it for what it really was, it was not a prank or a hilarious joke, it was an unlawful execution. He threw his phone back into his pocket and sneered at the screen "how would you feel if it was someone in your family?"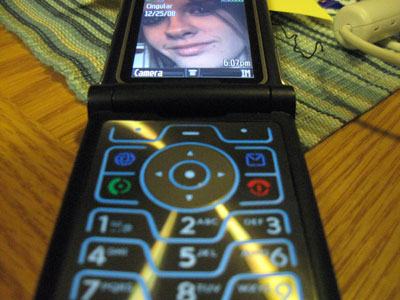 © Adam S., Kingdom City, MO