The Coming
March 31, 2013
Every year, she'd find time to go to the park one weekend in late August. A fine day, when the sky was the clear blue of the unadorned glass vase on her mantelpiece, would inevitably appear, and she'd be off; hastily rubbing sunscreen onto the back of her hands and digging up a pair of sunglasses from a drawer piled high with paraphernalia. The radio on her phone blaring Pink Floyd, The Who and Metallica, she'd tramp up the hill, sunnies fogging up from her panting breath by the time she'd reached the top. Then, walking carefully on the path to avoid the splattered cowpats made by the dappled brown cows stolidly chewing grass in the pastures, she'd make her way to Twin Oaks Drive.

When she could see the trees in sight, she'd slip out her headphones. Blisters beginning to form from fiction of her owl-patterned socks, she'd listen to the crisp crunch of the dull red gravel beneath her feet. With every step she took, it would scatter, bouncing away from her shoe to settle in another gap like startled sparrows coming to rest after a scare. Sometimes, she'd take off her sport shoes, and the crunch would transform into a scuffing noise. But only if she was alone. Nobody else needed to smell the stale odour that emanated from her shoes – they had their own footwear for that.

The immense oak trees rose high and stretched their still-bare branches out, welcoming the coming of the sun. Their mottled trunks, speckled with blanched green moss, loomed over the path in the two rows that gave the drive its name. A large white sign hammered onto the dirt read "Please do not pick the daffodils, as they are for everyone's enjoyment". This was what she'd come for. Crossing the road to the path at the centre of the drive, she grinned with the joy of one whose expectation has been fulfilled. Before her, where weeks ago had been nothing but packed dirt and some rocks, there was now a vibrant green expanse filled with bluebells and hundreds of daffodils, straight and faces lifted to the sky, or drooping, petals already wilting, ranging from the palest of yellows to warm orange which resembled the colouring of a macaw's underbelly feathers. She felt like skipping. So she did, prancing down the drive with her arms waving in the air. She stooped to smell a daffodil, and knew that she'd end up having brick red pollen all over her nose. And she knew that spring was finally here.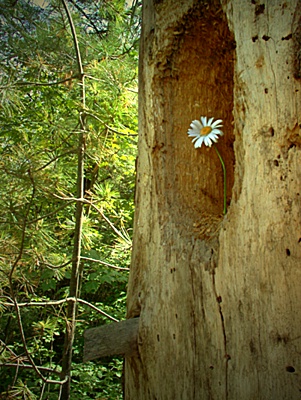 © Anna R, Sudbury, ON, Canada